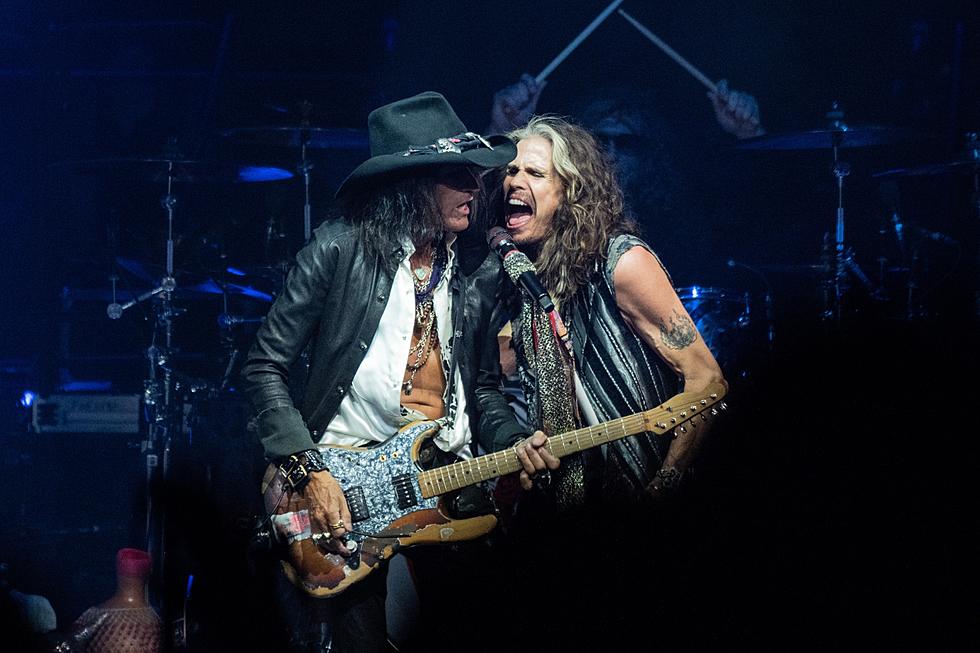 Aerosmith Postpones Detroit Farewell Tour Stop
Photo via Getty Images
Aerosmith fans in Michigan are cryin'.
The iconic rock band was due to bid Detroit a final farewell at Little Caesars Arena on September 18, but it's not going to happen - at least for now.
Why Is Aerosmith Postponing Shows?
Basically, lead singer Steven Tyler pushed his voice a little too far during a show on Long Island over the weekend. Crazy, we know.
Tyler released the following statement following a visit with his physician:
To all our fans…I'm heartbroken to say I have received strict doctor's orders not to sing for the next thirty days. I sustained vocal cord damage during Saturday's show that led to subsequent bleeding. We'll need to postpone a few dates so that we can come back and give you the performance you deserve.

 
Sometimes a little vocal rest is what it takes.
What's Happening to Aerosmith's Detroit Show?
The Aerosmith "Peace Out" farewell tour stop scheduled for Detroit's Little Caesars Arena on September 18 has been postponed until the other side of the new year.
According to 313 Presents, "Aerosmith's "Peace Out" farewell tour performance at Little Caesars Arena on Monday, September 18 has been rescheduled to take place on Monday, January 29, 2024. All tickets for the previously scheduled performance will be honored for the new date, so patrons should hold on to their tickets."
The Black Crowes were scheduled to open for Aerosmith on the tour's September date in Detroit; the band is still planning to be there for the make-up date in January.
Other Postponed Aerosmith "Peace Out" Farewell Tour Dates
If you thought you could just fly to another city to catch the band sooner, dream on. The Detroit show is just one of six that Aerosmith is being forced to move. Fans who don't want to miss a thing in Chicago, Washington, Toronto, Raleigh and Cleveland will have to wait a little longer as well:
Monday Jan 29 2024 – Detroit, MI – Little Caesars Arena
Wednesday Feb 14 2024 – Chicago, IL – United Center
Saturday Feb 17 2024 – Washington, DC – Capital One Arena
Wednesday Feb 21 2024 – Toronto, ON – Scotiabank Arena
Monday Feb 26 2024 – Raleigh. NC – PNC Arena
Thursday Feb 29 2024 – Cleveland, OH – Rocket Mortgage FieldHouse
Aerosmith 'Peace Out' Farewell Tour Opening Night Photos
Aerosmith kicked off their final tour on Sept. 2, 2023, in Philadelphia.
Aerosmith Albums Ranked
Any worst-to-best ranking of
Aerosmith
must deal with two distinct eras: their sleazy '70s work and the slicker, more successful '80s comeback. But which one was better?