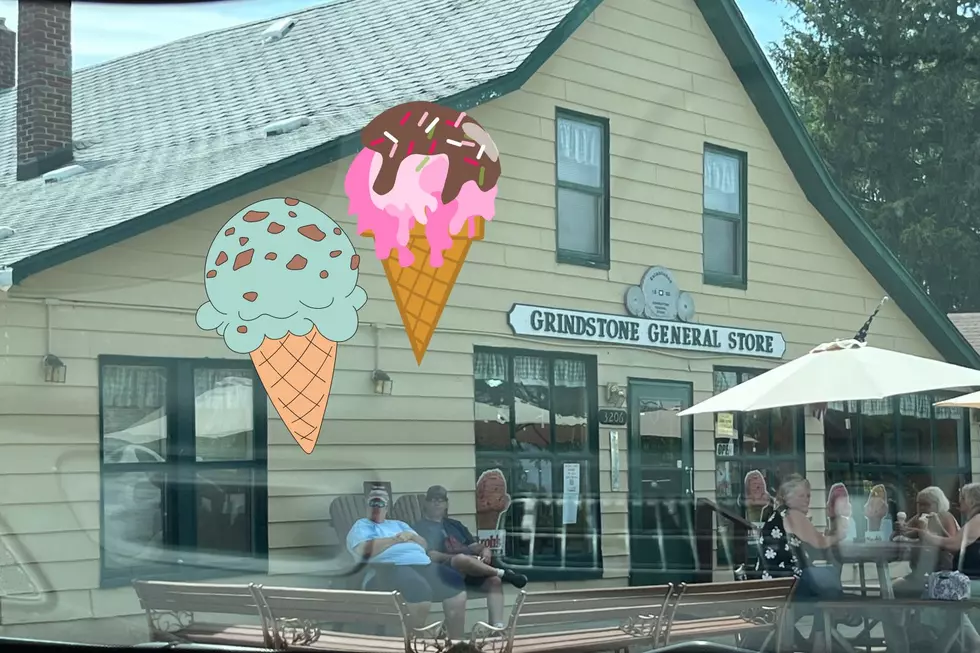 Could This Be the Most Gigantic Scoop of Ice Cream in Michigan?
Photo courtesy of Kristen Matthews/TSM Lansing and Canva
Earlier this summer, my family and I took a camping trip up to Port Austin, located at the tippy-top of Michigan's thumb. It was there that I discovered what just might be the most giant scoop of ice cream in the state of Michigan
Allow me to introduce you to Grindstone General Store in Port Austin, Michigan. It's a general store that has a lot of history in the area, as it's "the last existing business from the original Grindstone City." It's been around since 1886...that's 136 years!
Looking at those pictures above, you probably get the sense that they serve up a pretty big scoop of ice cream. But these pictures don't do it justice. They claim to serve up "the biggest ice cream cones in the thumb," but I'd argue it might be the biggest scoop of ice cream in Michigan.
Who Serves the Biggest Scoop of Ice Cream in Michigan?
When you go up to the register to order, they describe the scoop as larger than softball size, and they also let you know that you're about to receive 16 oz of ice cream. And yes, you can ask to receive less ice cream, but no, they don't officially have a smaller scoop.
To give you a better idea of what an ice cream cone from Grindstone looks like, here's a picture of the cone I got next to my head.
That's 16 ounces of Michigan Pot Hole ice cream. There was so much that I wasn't even able to finish my cone. It was absolutely delicious and cost less than $4.
Another thing that makes Grindstone General Store awesome is that in addition to serving Stroh's ice cream, they also make their own ice cream. They have 298 homemade flavors that they make and rotate seasonally and weekly. My husband enjoyed one of their homemade flavors, a lemon pound cake flavor, and that one was delicious too!
So, if you really want to see if this is the biggest scoop of ice cream in Michigan, you'll have to check it out for yourself. In the meantime, there are plenty of awesome ice cream places in and around the Lansing area. Check them out below!
30 Places For Ice Cream In Lansing Michigan
30 Places For Ice Cream In Lansing On A Hot Summer Day
11 Insanely Awesome Hand-Dipped Ice Cream Locations
Enjoying an ice cream cone during summer in Michigan is tradition, but finding a good hand-dipped ice cream stand can be a challenge. Check out these Lansing-area hand-dipped ice cream locations.
Dairy-Free/Vegan Ice Cream in the Greater Lansing Area
When you're lactose intolerant, vegan or just choosing to live dairy-free, it can be a struggle navigating a bustling food scene like Lansing's. It's especially harder to enjoy sweet treats like ice cream which is why more and more spots are offering non-dairy options!