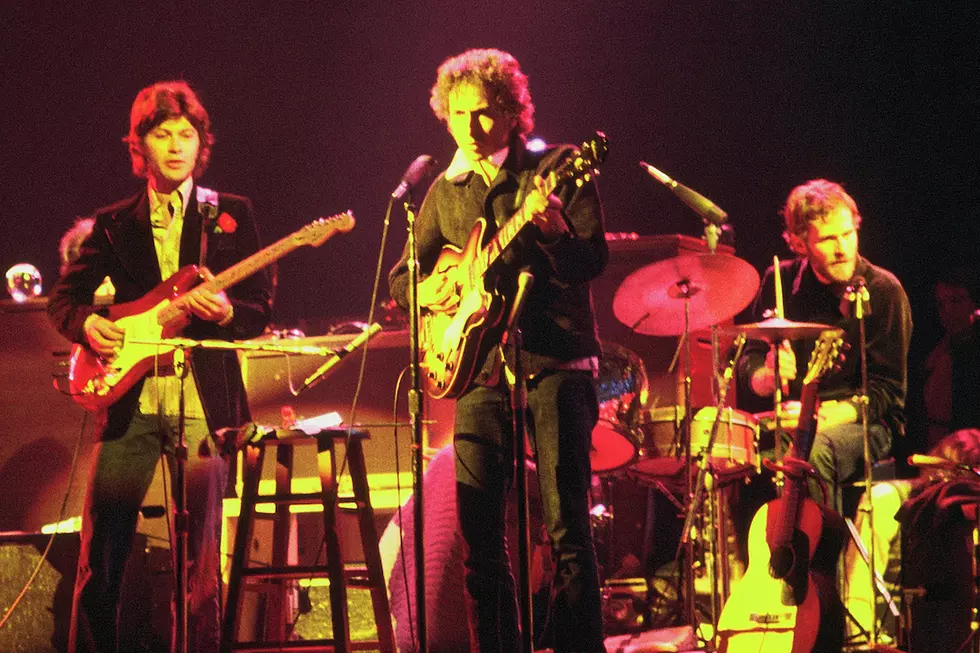 When Bob Dylan Joined the Band for New Year's Eve Show
YouTube
At the time, it was a year-ending celebration. In retrospect, the Band's December 1971 concerts at New York's Academy of Music put a capper on the outfit's early – and most fruitful – period. And it was only too perfect that Bob Dylan, the man with whom the Band had gained attention while backing in the '60s, showed up for an encore on the New Year's Eve show.
The Last Waltz was still a twinkle in Martin Scorsese's camera, so the Band's four concerts from Dec. 28-31 stood for a time as their career summation. They'd made four albums and logged miles and miles on the road, so these shows were a bit of a victory lap made complete with the addition of a small horn section.
Robbie Robertson remembers the closing New Year's Eve concert as being even more special. "That particular night there was a real thrill in the air 'cause it was our final night of it," Robertson recalled in 2013. "Something rose to a certain place that surprised all of us."
Another surprise – to the 3,000-plus fans at least – was the appearance of Dylan, who joined the Band for an impromptu encore after midnight, and a two-and-a-half-hour set. Although the members of the Band knew that their old boss planned to show, they hadn't communicated on what they would play together. It didn't turn out to be a big problem.
"We had played with Bob so much, over the years, that we thought: We'll figure it out. We'll wing it," Robertson told Insight Daily Radio. "He wasn't coming into the city until New Year's Eve day, you know. And we did – we were just winging it."
The five-member Band and Dylan huddled together before each selection in the 20-minute encore, deciding what was next. First came a loose "Down in the Flood," then the Band's version of "When I Paint My Masterpiece," then the never-before performed Basement Tapes chestnut "Don't Ya Tell Henry" and, finally, a woozy take on "Like a Rolling Stone."
The Band released live recordings of its Academy of Music residency on 1972's Rock of Ages, but none of the Dylan collaborations made the double-live album. They finally became available on a 2001 special edition, then were given the spotlight on 2013's Live at the Academy of Music 1971. That expanded boxed set preserved the full New Year's Eve show, including their between-song decision-making before charging into "Like a Rolling Stone."
"He says, 'You know, we haven't played this song in years,'" Robertson remembered. "Some of the songs, we had never played together. But even that fell together, in its own kind of way. He sang his heart out, and it was a lot of fun that night."
 
 
Bob Dylan Albums Ranked Worst to Best