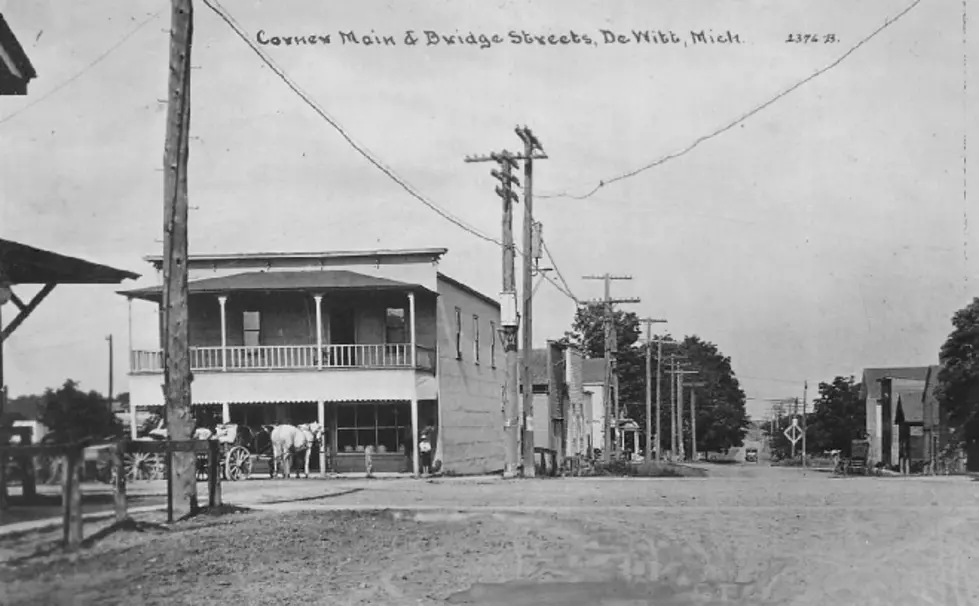 Early 1900s Photo Gallery of Dewitt, Michigan
dsap, ebay
Dewitt has the distinction of being the first permanent settlement in Clinton County.
The village and the county were named after politician De Witt Clinton, whose idea for a waterway through Michigan gave way to the Erie Canal in 1825. Clinton was the governor of New York from 1825-1828, a few years before Dewitt was settled.
It finally was settled in 1833 by David Scott and his family on the north side of Looking Glass River. However, Frederick Boles bought and settled land south of the river and platted a village there in 1837. In answer, Scott platted his own village on the north side in 1841; it was eventually given the name "De Witt", years later conjoined as simply "Dewitt". Unfortunately for Boles, he didn't – or couldn't – pay his taxes and the state took his land away from him in 1842.
It took awhile, but Scott's village property was eventually incorporated in 1928 (some sources say 1929). The village was also being served by an interurban railroad, running from Lansing to St. John's.
Ten days before Halloween 1930, the downtown area caught on fire and destroyed most of the old historic buildings. You can see many of these buildings - before they were burned down - in the photo gallery below.
Dewitt survived and it came back to be the comfortable town it is to this day. It was finally incorporated as a city in 1965 and was even voted one of the Top 100 places to live in the U.S. in 2005.
DEWITT, THEN-AND-NOW
MORE MID-MICHIGAN/LANSING AREA TOWNS:
Vintage Photos of Webberville
Vintage Photos of Ovid
Vintage Photos of Howell
Enter your number to get our free mobile app