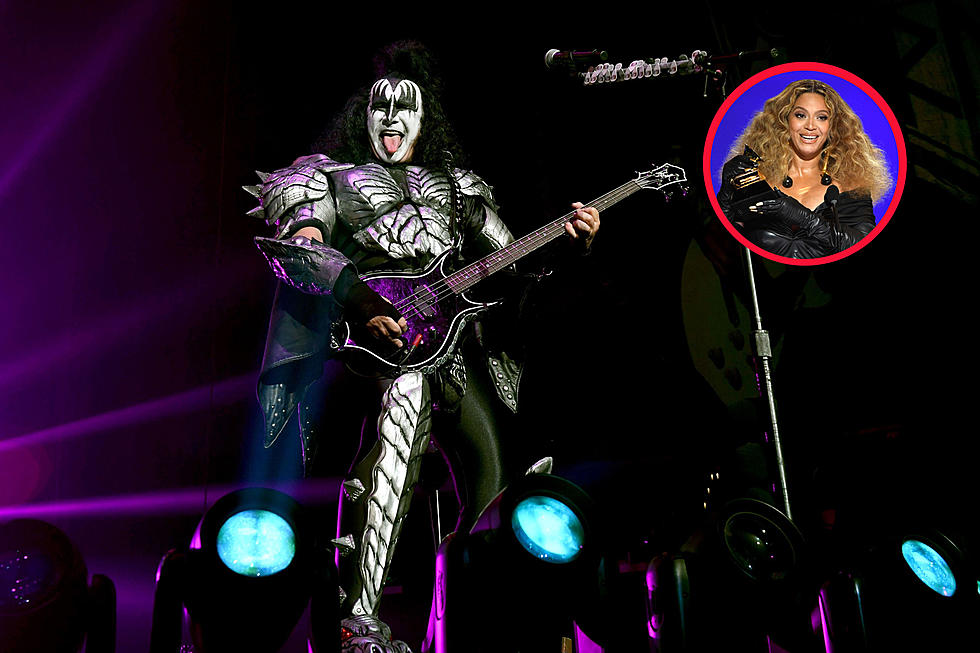 Gene Simmons – Beyonce 'Would Pass Out' Performing in KISS Gear
Kevin Winter (2), Getty Images
KISS' makeup has come and gone and come back again over the years, but their identifiable stage costuming has remained intact. That said, it has not gotten any easier for the aging musicians to perform while donning the extensive and bulky stage get-up, but it's something Gene Simmons can take pride in still being able to do at the age of 72. Speaking with ET Online's Kevin Frazier, the bassist-singer says it's not something that some of the most dynamic of performers would be able to pull off, shy of the dedication to fitness the KISS members have maintained over the years.
"We work hard at it," Simmons explained. "No drugs, no booze, no smoking. None of that stupid rock 'n' roll stuff. I hike almost every single day with Shannon [Tweed], we do three to five miles a day, and it's hard to keep this going."
"You got to understand -- we love Jagger and Bruno Mars and Bono and anybody else, they're all great," adds Simmons. "But if you put those guys -- Beyoncé, put Beyoncé in my outfit with seven to eight-inch platform heels, dragon boots that each weigh as much as a bowling ball, the entire outfit, studs, leather and armor is about 40 pounds. The guitar and the studs is 12 pounds by itself. Then, you got to spit fire, fly through the air and do that for two hours. They would pass out within a half hour."
The rigors of performing in the iconic costuming is part of the reason that KISS are in the midst of their "End of the Road" tour, with plans to bring their touring career to an end when the run concludes.
"We're approaching 50 years of doing this, which is unbelievable because we never thought we'd last more than a few years," Simmons commented, adding, "The last thing that you want to do is be a guy that stays in the ring too long and gets his ass beat. Get out of the ring when you're a champion."
The musician concluded, "We are the hardest working band out there and take pride in it. And not every band should be out there too long. You've got to have some pride and not stay too long. Always keep them wanting. I'm the most blessed and grateful guy in the world to be able to be in a band where I can wear more makeup and higher heels than your girlfriend."
KISS' "End of the Road" tour starts up again April 19 in Santiago, Chile for a South American run. They'll return stateside on May 11 in Milwaukee to kick off the next North American tour leg. See their scheduled dates here.
50 Best Hard Rock + Metal Live Acts