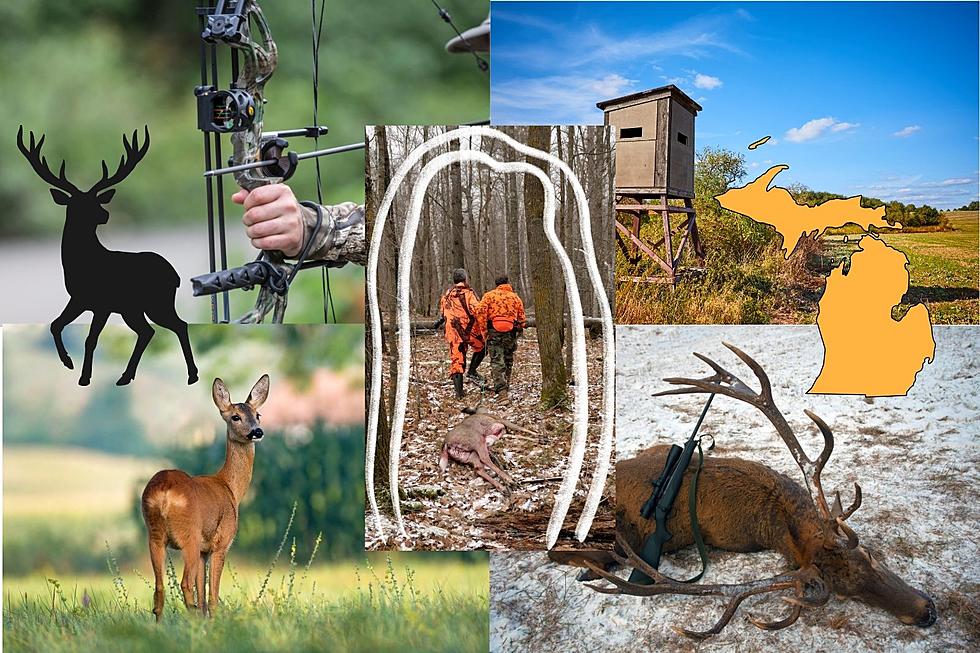 Love Hunting In Michigan? Know These Simple Laws Immediately
Canva
There are just a few more days until it's time to bow hunt in Michigan. Are you ready for the hunting season? Make sure you know the deer hunting laws in the state of Michigan.
I have never hunted. If I want to head out this year I need to be prepared and I need to know the do's and don'ts. I don't want the DNR giving me a hard time.
When am I able to hunt. What weapon can I use? What months can I hunt leagally? These are questions I have as a potential hunter.
Yes, you need a base hunting license to start. The state of Michigan says:
An annual base license is required for every resident or nonresident who hunts in Michigan, unless otherwise noted. The base license allows hunters to hunt small game and to purchase additional hunting licenses.

 
If you are hunting deer in Michigan, you'll need to get the additional hunting license to do so.
Deer
Resident license - $20
Nonresident license - $20
Senior license (65+, Michigan residents only) - $8
Deer Combo
Resident - $40 (two deer licenses: $20 regular, $20 restricted)
Nonresident - $190 (two deer licenses: $20 regular, $170 restricted)
Senior (65+, Michigan residents only) - $28 (two deer licenses: $8 regular, $20 restricted)
The deer hunting season in Michigan is a long one. The state sets the timeframes.
There is an open hunting season at all times on public and private land from Aug. 1 through March 31 every year. Hunters could be encountered in the woods on public lands during these months.
While bow hunting starts on October 1st, there have been hunts going on already this year.
Liberty Hunt: Sept. 9 – 10, 2023

Youth and hunters with disabilities hunt

Early antlerless firearm: Sept. 16 – 17, 2023
Independence Hunt: Oct. 19 – 22, 2023

Hunters with disabilities hunt

Archery: Oct. 1 – Nov. 14 and Dec. 1 – Jan. 1, 2023
Regular firearm: Nov. 15 – 30
Muzzleloading:

Zone 1: Dec. 1 – 10, 2023
Zone 2: Dec. 1 – 10, 2023
Zone 3: Dec. 1 – 10, 2023

Late antlerless firearm:

Dec. 11, 2023 – Jan. 1, 2024
The DNR has a fancy building in Downtown Lansing because hunters and others have messed up and the fines are costly, you don't want a visit from them.
Get the complete Michigan Hunting Regulations Summary.
Get your base license, any additional hunting licenses you would need. Find some property that you have approval to hunt on and head out hunting.
Michigan Fishing: 1900-1943