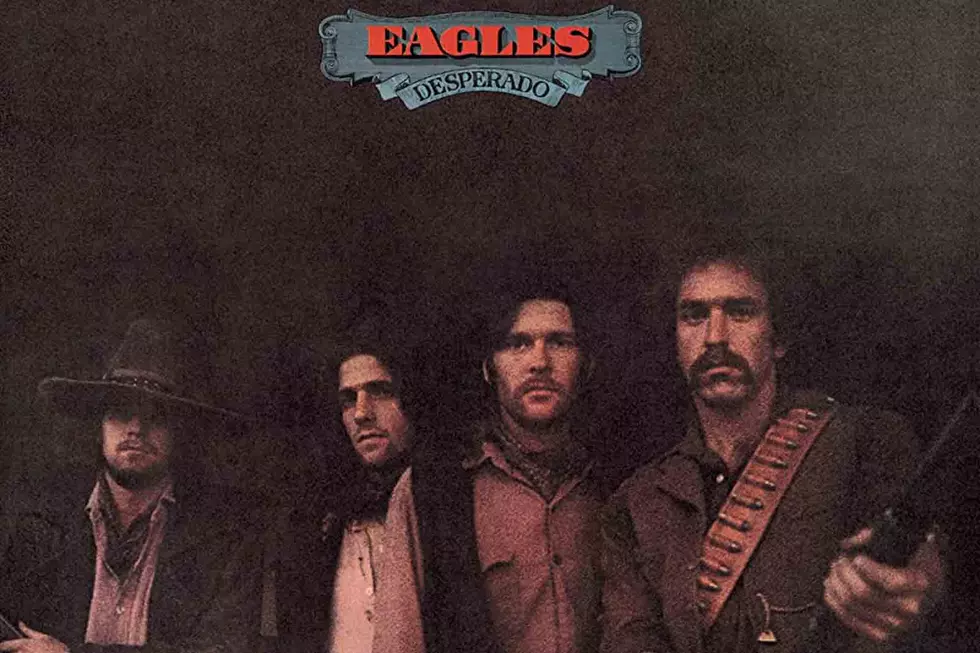 50 Years Ago: Eagles Channel Classic Influences for 'Desperado'
Asylum
Eagles' debut album was barely finished for a week when Don Henley and Glenn Frey wrote the title track for the follow-up and their inaugural collaboration as a songwriting team.
"Desperado" was penned during the late winter of 1972 in a Laurel Canyon house where Henley was staying. The song provided the title for the quartet's 1973 sophomore album and also became a fan favorite, even though it was never released as a single. "Don sat down at the piano and showed me this song he was working on, and it was the intro to 'Desperado,'" Frey told Cameron Crowe during a promotional interview in conjunction with the 2003 compilation The Very Best Of. The original lyric was different, according to Frey: "Leo, my God, why don't you come to your senses / You've been out ridin' the fences for so long now."
"Glenn came over to write one day, and I showed him this unfinished tune that I had been holding for so many years," Henley explained during the same interview. "I said, 'When I play it and sing it, I think of Ray Charles - Ray Charles and Stephen Foster. It's really a Southern gothic thing, but we can easily make it more Western ... Glenn lept right on it - filled in the blanks and brought structure. And that was the beginning of our songwriting partnership - that's when we became a team."
The partnership was cemented when the pair wrote "Tequila Sunrise" right after "Desperado" and would go on to pen six more tracks together (some with other writers) for the Desperado album. "I think I brought him ideas and a lot of opinions, he brought me poetry," Frey said. "We were a good team."
The revised "Desperado" was also instrumental in giving direction to the Eagles' second album. While jamming with pals Jackson Browne and J.D. Souther, both of whom co-wrote songs on Desperado, Frey remembered that "the idea came together about us doing an album of all the angst-meisters. [Laughs] It was going to be all of the antiheroes. James Dean was going to be one song, and the Doolin-Dalton gang was going to be another. The idea became 'Desperado,' and Don's Stephen Foster song acquired a new first line: 'Desperado, why don't you come to your senses?'"
Listen to Eagles' 'Desperado'
Eagles producer Glyn Johns, meanwhile, upped the ante for "Desperado" by bringing in Jim Ed Norman to arrange a sweeping string arrangement for the track, which was recorded with the London Symphony Orchestra, whose players were "bored shitless" according to an admittedly terrified Henley.
"They had brought chess boards with them," Henley told Billy Joel during a 2015 public conversation at the 92nd St. YMCA in New York City. "Each pair of players would set a chessboard up between them, and when we weren't doing any takes, they would play chess. That's how bored they were. ... Once in a while I would hear a remark from back in the back, 'I don't feel like a desperado.'" Johns, though, "wouldn't allow us to do more than four or five takes" of the song, which left Henley dissatisfied with his performance.
"That vocal was not my best work, and I wish I had the chance to do it again," Henley said. "But that's OK ... Linda Ronstadt did it just fine."
Ronstadt recorded "Desperado" on her 1973 album Don't Cry Now, which was released five and a half months after Desperado. Because she was a bigger artist at the time, Henley and Frey - both former members of her band - credited Ronstadt with popularizing "Desperado" and, in turn, Eagles.
Listen to Linda Ronstadt's 'Desperado'
"Desperado" has also been covered over the years by Johnny Rodriguez, Diana Krall and Clint Black for the 1993 tribute Common Thread: The Songs of the Eagles. Miranda Lambert performed it when Eagles were honored at the 2015 Kennedy Center Honors.
The Desperado album, meanwhile, was a relative flop for the band: its lowest-charting release ever, with a No. 41 peak on the Billboard 200 chart, though it was eventually certified double platinum. The LP also failed to produce a major hit, with "Tequila Sunrise" and "Outlaw Man" stalling at Nos. 64 and 59, respectively, on the Billboard Hot 100.
Eagles Albums Ranked
The Eagles have been rightly praised for their canny combining of Glenn Frey's city-slicker R&B with Don Henley's country-fried rockabilly.