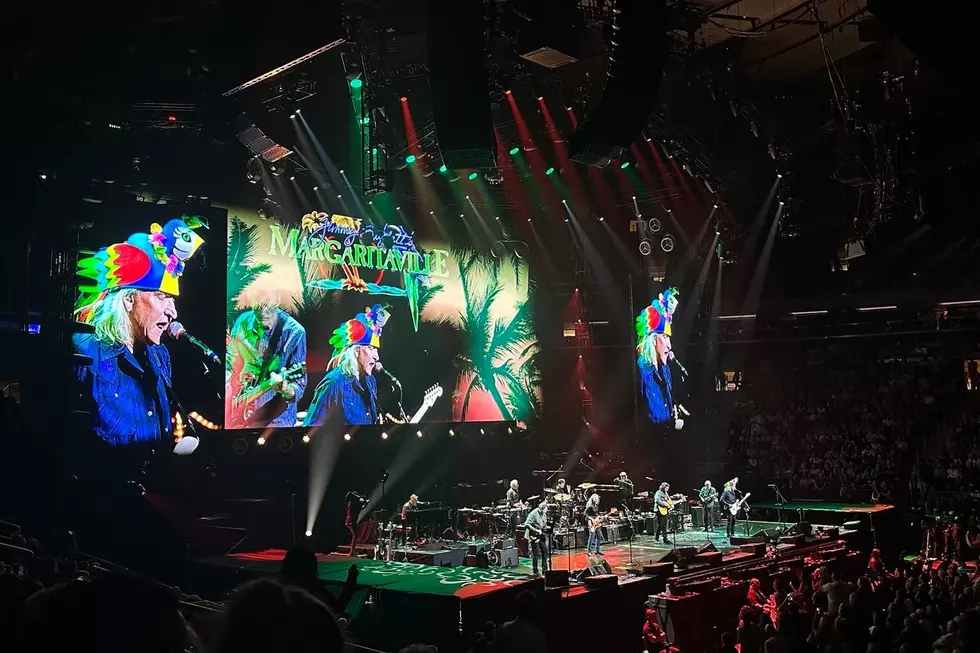 Watch Eagles Pay Tribute to Jimmy Buffett With Two Covers
Allison Rapp, UCR
Eagles paid tribute to the late Jimmy Buffett Thursday night at their tour opener in New York City with two Buffett covers.
"Jimmy Buffett is now sailing on that cosmic ocean, having that cheeseburger with Glenn [Frey] and Randy [Meisner]," Henley said, referencing his late Eagles bandmates. "We always liked to laugh and say we survived the '70s together." The band then performed Buffett's 1974 song "Come Monday."
"Jimmy and I got thrown out of some of the finest hotels in the world," Joe Walsh added, before putting on a "parrot head" hat and launching into "Fins," another Buffett favorite.
You can see the video of the performances below.
Jimmy Buffett and Eagles' History
Buffett's history with Eagles goes back decades. In 1975, Buffett opened for the band at a show in Columbia, South Carolina.
"Mixed emotions were flowing, fear, excitement, and a lot of 'what ifs' were running through my head when the door suddenly opened, and in walked Glenn Frey," Buffett recalled to Billboard in 2016. "That was the first time we met. He greeted me and the band warmly, thanked us for being there, and said to me how much he loved 'A Pirate Looks at 40.' He wished us luck and then went back out the door. That was the beginning of a long and lovely friendship."
READ MORE: Underrated Eagles: The Most Overlooked Song From Each Album
In 1979, Buffett sang backing vocals on the Eagles song "The Greeks Don't Want No Freaks." In 1998, Buffett inducted the band into the Rock & Roll Hall of Fame.
"I was the apprentice in the workshop, and I was glad to be there," Buffett said in his speech. "It was the little things I was privileged to witness backstage that helped me survive and become a better performer."
The Best Song From Every Eagles Album
Which ones go the distance?