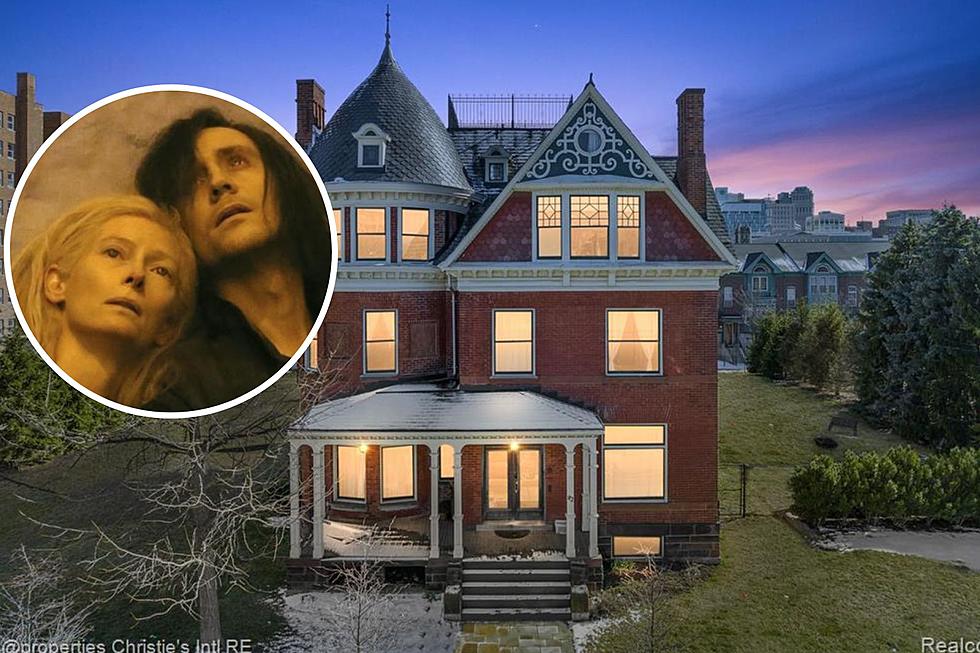 Historic House from Tom Hiddleston Vampire Movie for Sale in Michigan
Soda Pictures/ Hayley Steinkopf Bonafede, Christie's Int'l RE Grosse Pointe
Part comedy, part romance-horror, a Tom Hiddleston film was shot in Michigan about a decade ago - and the home from the movie is now on the market!
I'd never heard of "Only Lovers Left Alive" so I did some digging. According to a summary on IMDB,
Set against the romantic desolation of Detroit and Tangiers, an underground musician, deeply depressed by the direction of human activities, reunites with his resilient and enigmatic lover.
Oh- and they're both vampires! The film also stars Tilda Swinton.
The musician vampire Adam has holed himself up in his Victorian-era home in Detroit with his instruments and books - and that very home is now for sale!
Here's a clip from the movie. And yes, the mansion looks a bit... run down. But it sounds like someone has since renovated it!.
The fact that it was in a movie certainly isn't the only interesting thing about the residence. According to Detroit Metro Times, the four-story home was built in 1879 by James P. Donaldson and later purchased in 1893 by David C. Whitney, the son of lumber baron David Whitney Jr.
It was later converted into a boarding house for auto workers.
Later, director Jim Jarmusch would select the Victorian at 82 Alfred St. for his movie "Only Lovers Left Alive". Since then, another owner purchased the house and has been fixing it up. .
At 6,710 square feet, the home is located in Detroit's Historic Brush Park, just steps away from Little Caesar's Arena. According to the listing, the home boasts,
Private original rooftop deck
1,000 square-foot Carriage home that's been converted to an apartment
4-car garage
3 kitchens
8 fireplaces
Ornate wood paneling and mantles
New roof
Updates to HVAV and Air conditioning.
Probably one of my favorite things about the house is the unusual dome bedroom! Take a tour in the gallery below and see how much the mansion is going for!
Mansion From 'Only Lovers Left Alive' Filmed in Detroit On The Market
A nine bedroom, five and a half bath home in Detroit's Historic Brush Park is up
for sale
. The mansion is featured in the Tom Hiddleston, Tilda Swinton 2013 vampire movie, "Only Lovers Left Alive".
Take a Look Inside the Most Expensive Home For Sale in Grand Rapids, Mich.
A renovated, mid-century 6-bedroom, 4-bathroom home is on the market.
Unusual Earth-Covered 'Hobbit House' Exists in Hudsonville, Mich.
A unique "berm home" on five secluded acres was
up for sale
a few years ago in Hudsonville. Reminiscent of the "hobbit houses" in Lord of the Rings, the 1900 square foot home is built into the side of a hill, making it super energy efficient. Additional selling points include an expansive patio, private pond, and a heated/ insulated pole barn.
Allegan County Historic Schoolhouse, One-Time Antique Store on Market for $120K
A red brick school built in 1909 and converted to an antique store in the 1960s (in which many treasures remain inside) is on the market for $120K at 4219 18th St. in Dorr in Allegan County, Mich.