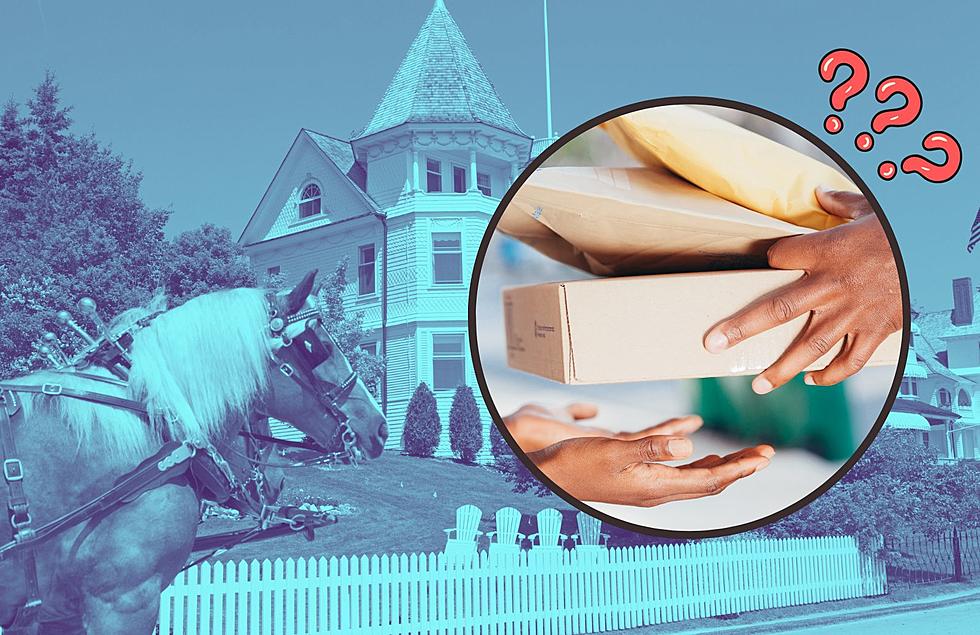 Have You Ever Wondered How the Mail gets Delivered on Mackinac Island?
Canva
I'm not going to lie, I have a small addiction to my amazon prime subscription. I order the stupidest things on a whim, constantly.
Like this amazing wig for my dog Tulip that just arrived on our doorstep this week.
That amazon van makes it's way to my house with ease since I'm lucky enough to live in here grand Rapids. But, have you ever wondered how your package were to arrive if you were to move to Michigan's beloved island getaway, Mackinac Island?
As you may be aware, there are no cars on Mackinac Island, meaning that your mail truck, UPS Guy and Amazon Delivery van can't just drive right up to your door to drop off that item you needed ASAP.
In fact, everyone stops by the Mackinac Island post office to pick their mail up, because there is no delivery to homes on the island per their routing.
So what do you do if you want to get a package mailed to you on Mackinac Island?
Well, we finally know the mystery of amazon delivery on Mackinac Island thanks to a TikTok video that has recently gone viral.
The mail/amazon person brings all of the big things around on a horse drawn cart, taking each amazon package from door to door.
I'm not sure if they use the Mackinac post office as a post to get the mail, but you may see this fancy guy wandering through down dropping off all of the "must needs" for residents of the island.
While, I appreciate the ingenuity of this solution, I'm also really glad that we have the silent electric trucks below the bridge, because my dog would LOSE HER MIND if she heard those horses clopping by every time we bought her a new wig or something silly.
Pat Rickley, 30-Year Toll Booth Operator at Mackinac Bridge