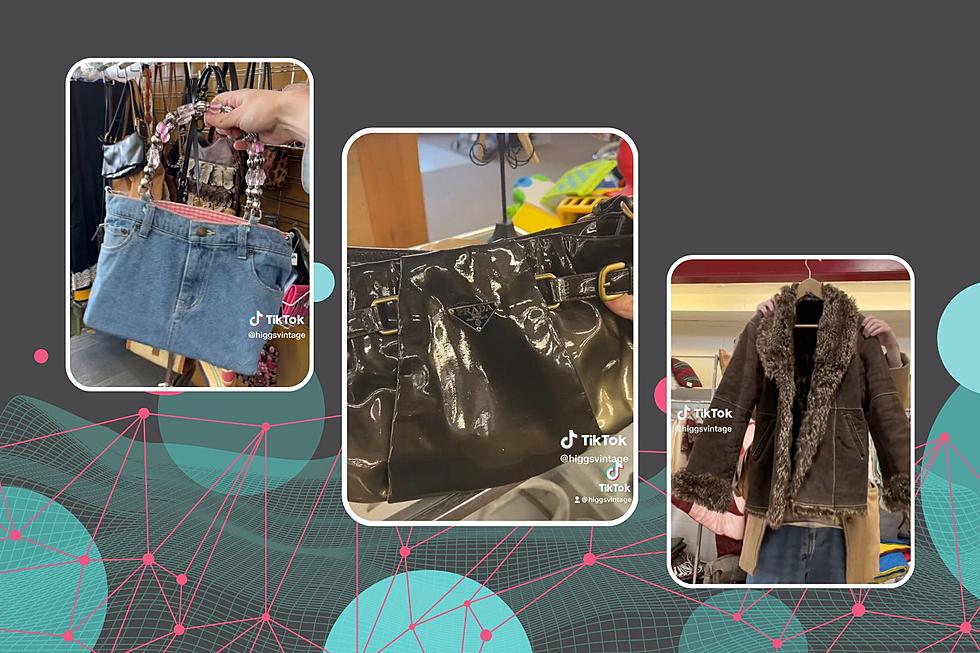 Love Thrifting? This West Michigan Tiktok Account is For You
Via/ Canva, Via/ Tiktok
Cue Macklemore's song Thrift Shop.
Thrifting has become very trendy as of late. And, why wouldn't it be? You can find vintage clothing, housewares, furniture, and even artwork for an incredibly low price.
If you're curious about what kind of finds you might stumble upon while thrift shopping in Michigan, look no further than our selected Tiktok Tuesday account, Higgs Vintage.
---
Higgs Vintage's videos are about one thing and one thing only: thrift shop finds. Traveling throughout Michigan, and even Ohio, he shares his findings through his Tiktok account.
Some finds are great:
Others...not so much:
Or maybe that IS a good find. Who am I to judge the jean purse?
Based just north of Grand Rapids, Higgs Vintage also points out something a lot of us novice shoppers may not recognize...fake products. It's quick but, in the below video he spots what he immediately recognizes as a fake Prada bag selling for hundreds of dollars:
*Quick warning, there is some adult language used in this video*
So, what does Higgs Vintage do with all the products he stumbles across in local thrift stores? He sells them.
The unfortunate side of the trend of thrift shopping is, like with anything else that is popular, the prices tend to go up. This is nothing against this creator because we all have to pay our bills. But, he takes items found for cheap and then resells them at a higher price. That's capitalism, baby.
You can visit your local thrift shops and, hopefully, stumble upon the item you're looking for. But, if you're looking for something very specific and are willing to pay a higher price, you can find the Higgs Vintage store here.
If, however, you're just looking for some thrifting inspiration, you can follow Higgs Vintage on Tiktok and see all the stores he's visited in the past. If you're in West Michigan, it's more than likely that you'll spot a local thrift shop featured in at least one video.
---
We're always looking for people in West or SW Michigan to feature for Tiktok Tuesday. If you know someone who has at least 10,000 followers and who lives in the area, nominate them below:
Take a look at past creators we've featured that you may have missed:
23 Biggest Southwest Michigan TikTok Creators in 2023
These are the TikTok creators in Southwest Michigan ranked by followers. Updated 08/29/2023
Vintage Newspaper Reveals How "Cheap" Things Used to Be in Kalamazoo
A resurfaced newspaper from 1975 shows just how "inexpensive" things were in Kalamazoo back in the day. Can you imagine if we still had these prices??