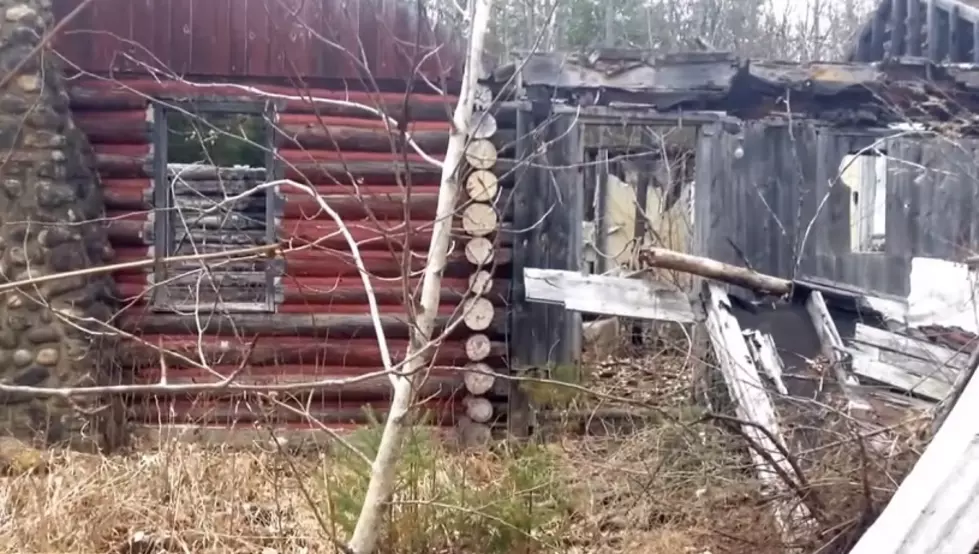 Abandoned, Decades-Old Cabin in the Woods: Mio, Michigan
Forbidden Michigan, youtube
WARNING: Under no circumstances should you enter this property. By doing so you risk bodily harm and/or prosecution for trespassing on private property. 
The town of Mio sits smack dab in the center of Oscoda County, thirty-two miles east of Grayling on M-32. It's surrounded by beautiful forests, plenty of campgrounds, and the Au Sable River. According to those who have moved there, it's one of Michigan's best places to live.
Like in many places of northern Michigan, there is an abundance of abandoned structures: stores, houses, barns...and deserted cabins found decaying in the woods.
The abandoned cabin seen below looks as if it's been neglected for decades: the roof has caved in, walls have fallen, broken windows, doors ripped off the hinges....it even looks like it might have caught fire at one time. The garage next to it is half-fallen and treacherous...even the videographer doesn't seem to want to enter it.
Even though this place is an absolute shambles, you can tell that it was once a beautiful little place where someone could get away. I don't see any road or drive leading up to it, so I assume it has been overgrown and lost to nature. So how did someone find it?
Next time you're in Michigan's upper Mitten, park your vehicle and traipse thru some woods, or go down one of those little one-lane dirt roads – you know, the ones with the grass growing down the center – and it's a good possibility you will find an old deserted structure of some kind hiding in the forest...like this guy did.
Have a look!
Abandoned Cabin in the Woods, Mio
MORE ABANDONED MICHIGAN:
Abandoned 'Looney Tunes' House in the Woods
Abandoned Victorian Mansion in the Woods
The Largest Log Cabin in Michigan