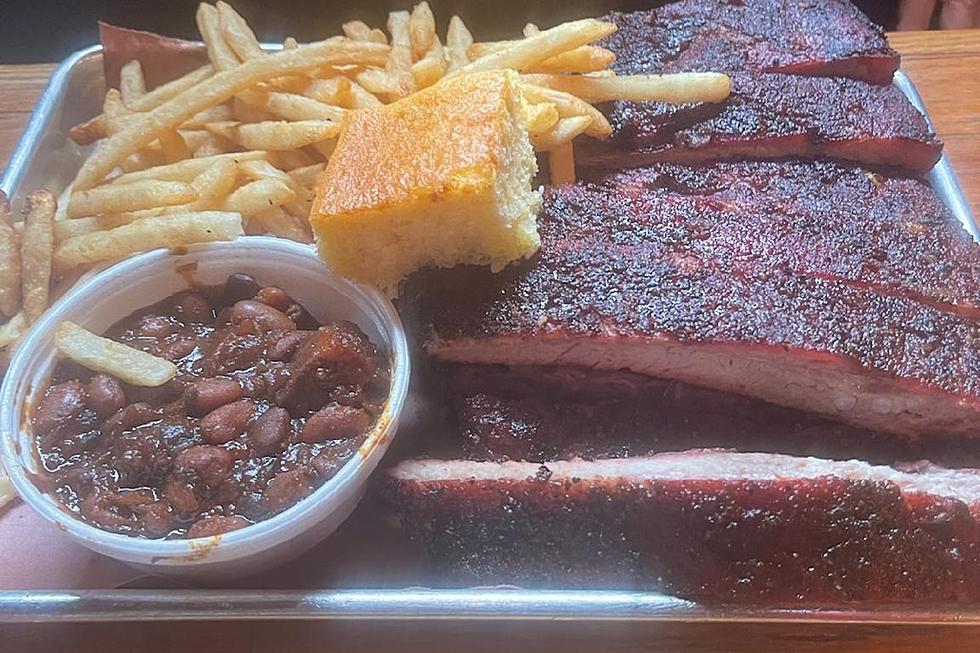 Why Didn't Y'all Tell Me About Meat BBQ in Lansing?
Photo via Al Garcia
I thought we were friends.
Why didn't anyone tell me I needed to try Meat BBQ in Lansing?
Do you ever see a picture of a certain food online, and suddenly you must have it?
I saw the pic below right here on this very website.
That pic made my mouth water and put me on a quest for BBQ ribs.
I scoured the online menus of several Lansing-area BBQ restaurants and finally settled on trying out Meat BBQ in Lansing's Old Town.
Located in Lansing's Old Town, Meat BBQ offers both indoor seating and outdoor tables in an adjacent courtyard. Inside décor is a strong salute to hard rock and heavy metal.
Meat BBQ Menu
Meat BBQ's menu of course included the pork ribs I came for, but also a variety of other tempting smoked meats - including pulled pork, pulled chicken, beef brisket, smoked turkey, smoked sausage and smoked wings. Most of the meats are available plated or on a "meatwich".
Available appetizers included nachos featuring "hand-cut tortilla chips with brisket, bacon, and pork and topped with cheddar cheese, tomatoes, onions, jalapenos and fresh avocado." The dish is then topped with drizzled sour cream and Jazzy Q (Meat BBQ's sweet and tangy barbecue sauce.) Pickle fries and trailer park bruschetta were among the other unique options.
Have you encountered a BBQ joint with a french fry bar? Meat BBQ has one where you can top your fries in a variety of ways - bacon and cheese are common choices, but meat, gravy and Texas chili are available too.
Offered sides include the expected fries and mac-n-cheese, but also some surprises such as jalapeno and cilantro slaw, and blue cheese and bacon potato salad.
What We Ordered
I came for the ribs, and decided to order the full rack with a side of fries and BBQ Pit Beans. My lunch companion chose the Meat Mountain, described on Meat BBQ's menu as "an unimaginably awesome baked and layered combination of garlic mashed potatoes, smoked beef brisket, house gravy, spicy creamed corn, bacon, and gooey cheddar cheese."
We waited less than fifteen minutes before digging in.
Meat BBQ's Ribs
I'm not a huge fan of ribs dripping in sauce. As a matter of fact, I prefer them to be prepared in such a way as to not require sauce at all - and Meat BBQ's pork ribs did not disappoint. The dry rub and light glaze resulted in a taste that was both sweet and savory - just as advertised. I purposely ordered the full rack expecting to take some home, and couldn't be happier with that choice. They heat up well and I continue to enjoy them.
The fries were perfectly cut, and served at just the right temperature. The BBQ Pit Beans had a good flavor as well, punctuated by gigantic chunks of brisket mixed in. The accompanying cornbread was just OK - not bad, but not anything to write home about.
Meat BBQ's Meat Mountain
Served in a 9" aluminum pie tin, this concoction came to the table bubbling hot and felt like it weighted close to 5 pounds. The scent alone was enough to bring a giddy smile to my lunch companion's face. He found the chunks of brisket to be tender and juicy, the "spicy creamed corn" not to be overly spicy, and likened the dish to a "rich man's shepherd's pie". This one's another dish you'll be able to take home and continue to use for at least two more meals.
Meat BBQ's Sauces
Again, I prefer not to add any sauce to my ribs at all - but for those who like them, Meat BBQ offers a wide variety of choices. I watched my lunch companion's eyes widen as he sampled the buffalo-based Hot Garlic sauce.
Just One Disappointment
Meat BBQ offers a wide selection of craft beers and cocktails. I was excited to see a Shiner Bock sign hanging on the wall - it's my favorite beer, and not found in lots of places outside Texas. My hopes were dashed when I learned that even though the sign's still on display, Shiner Bock is no longer served there (they instead serve what my server described as a similar-tasting beer brewed in nearby Grand Rapids), Ah well.
Bottom Line
Expect deliciousness, and expect to have leftovers to take home. Meat BBQ is worth the visit.
What's the best meal you ever had in Lansing?
A recent Reddit thread asked people to reveal the best meal they'd ever had in Lansing. Here are 42 local favorites. How many have you tried?