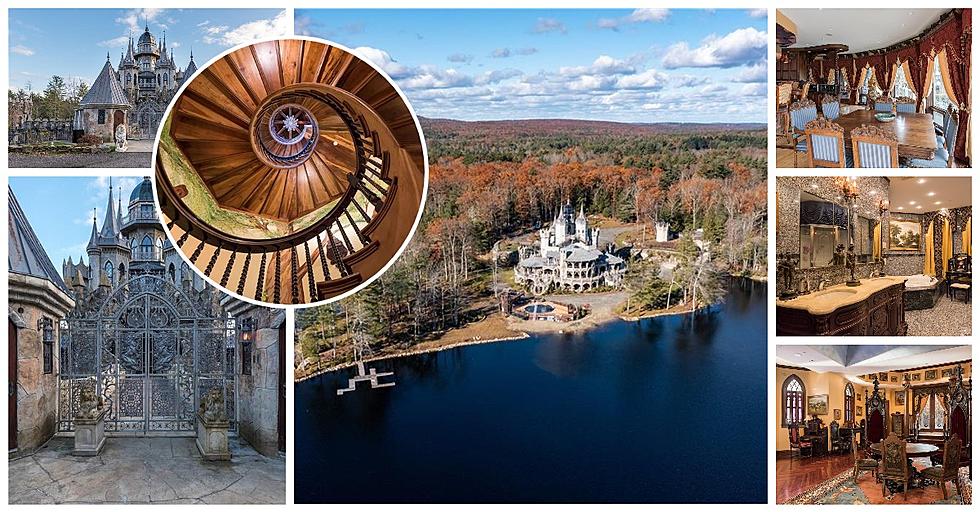 Live Like A King – Medieval Castle For Sale, Only $60 Million
Photos Courtesy Of Redfin/Zillow
Hear ye, Hear ye - if you have had trouble locating a massive medieval fairytale castle to buy, I have found one for you. My friend could soon be living like a king or a queen in this spectacular home.
As you can imagine living like royalty does not come cheap - this marvelous home has just been relisted for $60 million. According to the New York Post, it was previously listed in November of 2021 for only $35 million. Apparently, the giant price increase was made so the current owner can build his next castle home.
When I first saw this home (castle), I did think it was in Michigan. As you will see in the photo gallery below, the place is surrounded by trees and water - it looked like pure Michigan to me. It is actually located in Woodstock, Connecticut. I don't think it really matters where the home is located - if you can afford it, you can certainly afford to move.
Zillow describes the property, home, and amenities as follows,
Stunning one-of-a-kind property built to amaze and capture the imagination of the individual who relishes outstanding craftsmanship and superior design.
The home features a moat, towers rising 126 feet into the sky.
18,777 square feet of delight with nine bedrooms, 7 full baths, 3 half baths, 12 fireplaces, a breathtaking entry hall, and public spaces that are indeed fit for a king.
Massive kitchen to delight the queen with the latest kitchen appliances and a large stone fireplace overlooking Potter Pond.
Wood inlaid floors, doors, and woodwork are built with over 25 species of hardwoods imported from around the world.
Period architectural doors and stained glass are found throughout the castle.
Walkout lower level consists of approximately an additional 4.500 sq ft of finished space including a common area with a fireplace and circular bar.
Raised stage and auditorium.
In-law/maids apartment.
Radiant heat keeps the outdoor decks and patios free of snow.
Nestled on seventy-five acres, overlooking the 30-acre pond.
Additional features: hydro-air heat with radiant heat in the floors, central air, pool, dock, backup generator, 800 AMP service, and gated entry.
Did you catch the part about this place (palace) having its own stage and auditorium? Enough reading about this majestic massive castle, check out the photos below. You may want to look at them while eating a turkey leg - just saying.
Massive Medieval Fairytale Castle For Sale