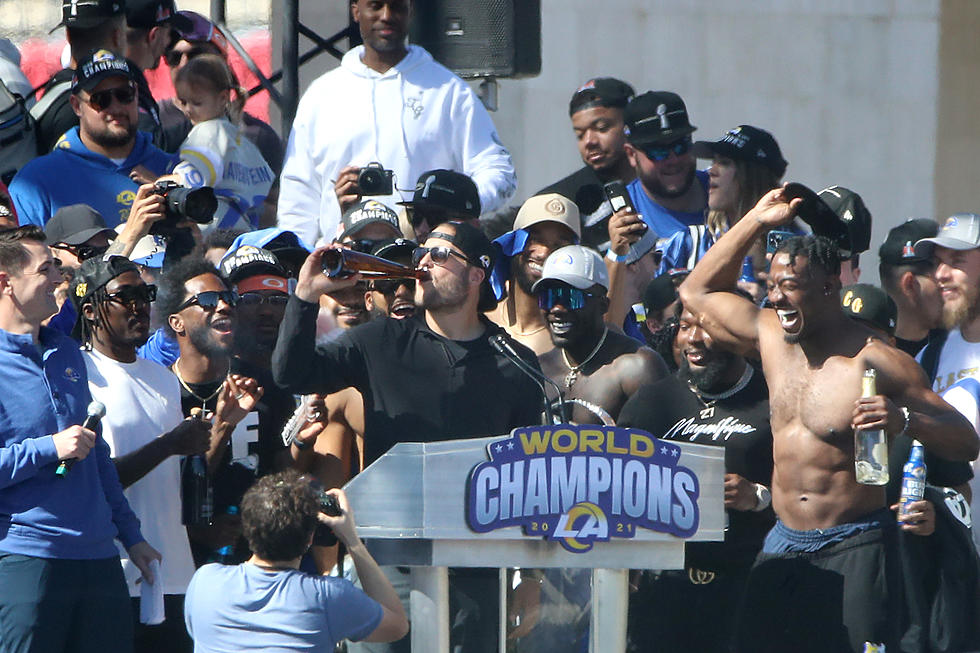 Super Bowl Buzz: Matthew Stafford Lets Loose At Victory Parade
Getty Images
Super Bowl 56 champion quarterback Matthew Stafford let loose and appeared to have a great time today at the Los Angels Rams parade.
The team was celebrating their recent Super Bowl 56 victory over Joe Burrow and the AFC Champion Cincinnati Bengals.
In a video posted from the victory parade, it appears Matthew Stafford might have been enjoying a little too much of the Don Julio 1942 tequila.
In the video, Matt Stafford says:
I'm damn happy to be standing up here with you guys celebrating that s**t. Come on. Let's go y'all. I'm going to bring a little Southern Hospitality to this. I appreciate y'all so much. You guys have been unbelievable all year. And you know what, we appreciate you. Let's go.

 
Super Bowl 55 champion quarterback Tom Brady offered Stafford some friendly advice on Twitter, and at the same time poked fun at himself.
Last year the seven-time Super Bowl champion had a bit too much to drink and tossed the Lombardi Trophy from one boat to another.
Matt Stafford also took an opportunity to poke fun at Super Bowl 56 MVP Cooper Kupp by wearing a t-shirt with his high school picture on the front of it.
If anyone is giving Stafford a hard time about drinking too much tequila, cut this man a break. He had to play for the Detroit Lions for 12 years and get his butt handed to him most Sundays. As a lifelong Lions fan, I could use a bottle of tequila too!
Check Out Lions Matthew Stafford's Michigan Mansion