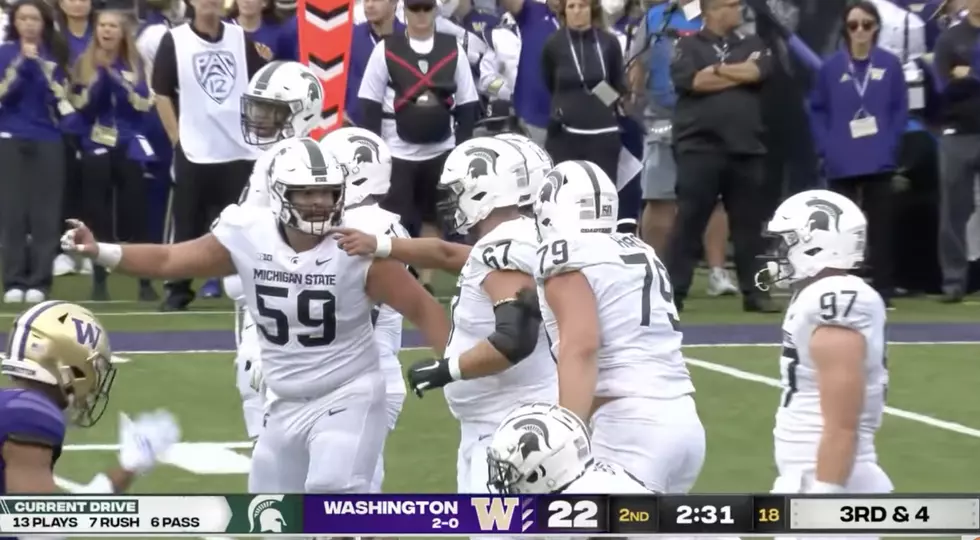 Michigan State Has Serious Problems, And Not Just Scottie Hazleton
ESPN screenshot via YouTube
It wasn't even halftime of Michigan State's third game of 2022 before many Spartan fans began calling for the firing of defensive coordinator Scottie Hazelton.
MSU found itself down 29-8 before the intermission as a result of its complete lack of answers for Michael Penix, whose ability to abuse State's defense transferred with him from Indiana to Washington.
Toward the end of a nightmarish first half, the Spartans marched down the field on an impressive scoring drive that made the score 22-9 with 90 seconds left in the second quarter. But MSU's defense immediately squandered all of that momentum, surrendering an eight-play, 65-yard touchdown drive that took just 86 of those 90 remaining seconds.
That effectively ended the game and extended the Spartans' losing streak in regular-season games played on the West Coast to 14 games.
Penix had nearly 400 passing yards by the end of the third quarter en route to the Huskies' 39-28 win. In the end, Washington outclassed MSU in alarming fashion, in an alarming number of facets of the game. But the one that stands out the sharpest to fans and media is what the Spartans have been most scrutinized and criticized for.
Penix looked flawless against MSU. He finished 24-for-40 passing for 397 yards and four touchdowns, almost all of which he accomplished before the final quarter. He set the tone early with a 47-yard bomb on the fifth play of the game, placed perfectly down the right sideline.
Hazelton Public Enemy No. 1 for Spartan Nation
That was the beginning of the end for Michigan State, as an ever-increasing chorus of Spartan fans on social media and sports radio began to call for the immediate dismissal of Hazelton, who presided over an MSU pass defense that finished dead last in the nation a season ago.
It's an understandable response, given the futility of the Spartans' pass defense in 2021 and the attention that's been paid to it. But it's easy to scapegoat the defensive coordinator, a lower-profile role that's relatively easy to replace.
What's harder to do is hold accountable the head coach, which of course makes no sense given the "buck stops here" mentality and the accountability platitudes that head coaches incessantly preach.
The Responsibility is Tuck's Everlasting
But make no mistake — what happened Saturday in Seattle falls entirely on Mel Tucker. For a number of reasons.
Aside from the fact that he's the head coach and, as such, is ultimately responsible for the entire program, Tucker has emphasized and embraced the problems MSU has had with pass defense over the last two seasons. He's been blunt, characterizing last year's pass defense as "dead-ass last" and has even taken a more hands-on approach this season, working with the secondary personally in practice. The unit's poor play is directly tied to him in that regard.
For Spartan fans who want to make Hazelton their ceremonial pound of flesh, think about who employs him. Tucker hired him as MSU's defensive coordinator. He could have fired Hazelton after Michigan State's dead-ass-last performance in pass defense in 2021, but he chose not to. Again, that's on Tucker.
But most of all, it comes down to a 10-year, $95 million contract extension. Whether the MSU fanbase likes it or not, the simple reality of Tucker's new deal is that it has exponentially raised the standards of the Spartan football program. How so, you might ask?
To demonstrate, let's first take a look at the college football coaches who are making the same ($9.5 million) or more than Tucker this season:
Brian Kelly, LSU: $9.5 million
Ryan Day, Ohio State: $9.5 million
Dabo Swinney, Clemson: $10.5 million
Kirby Smart, Georgia: $11.2 million
Nick Saban, Alabama: $11.7 million
Now ask yourself what would happen at any of those programs if they endured the bottom-ranked pass defense in a given season. And then, a season after earning that ignominy, what would happen at one of those programs if their head coach retained the same defensive coordinator who was in charge of that dreadful performance? The answer is that the head coach would be eviscerated by the fanbase and media alike for allowing that coordinator to continue earning a paycheck after that kind of a failure.
Look to Day at Ohio State for proof. The Buckeyes went 11-2 with a Rose Bowl win in 2021. That's the kind of season that would land any of the other 13 Big Ten head coaches a massive payday. In Columbus, it puts the head coach on the hot seat.
Ohio State's defense ranked 59th nationally in 2021 and 38th in scoring defense. MSU would kill to have that kind of a defense. But because of the standards at OSU, Day fired his defensive coordinator and most of his defensive assistants.
Michigan State is at that stage in terms of what it's investing into its football program. And make no mistake, if MSU's defense continues to play the way it did against Washington Tucker will have a new defensive coordinator in 2023.
But the Spartans' deficiencies go beyond pass defense, as evidenced by their performance in Seattle. Michigan State's issues are conspicuous now, and many in number. Worse, some of them are the kind that can't be fixed in-season.
But it's still ultimately on Tucker to remedy the problems, and there are 95 million reasons why.
Michigan State Had Several Alarming Weaknesses Exposed By Washington
For the better part of the last year, MSU fans and media alike have been hyper-fixated on Michigan State's secondary as the root cause of the Spartans' much-maligned pass defense.
But we know now that the Spartans have several significant vulnerabilities, courtesy of Washington's systematic and surgical dismantling of MSU in all facets of the game.
Highest Paid College Football Coaches For 2022
The coaching carousel in 2021 reset the market for college football coaches and their pay scale. Here are the top-paid guys heading into the 2022 season, according to
data compiled by USA Today.