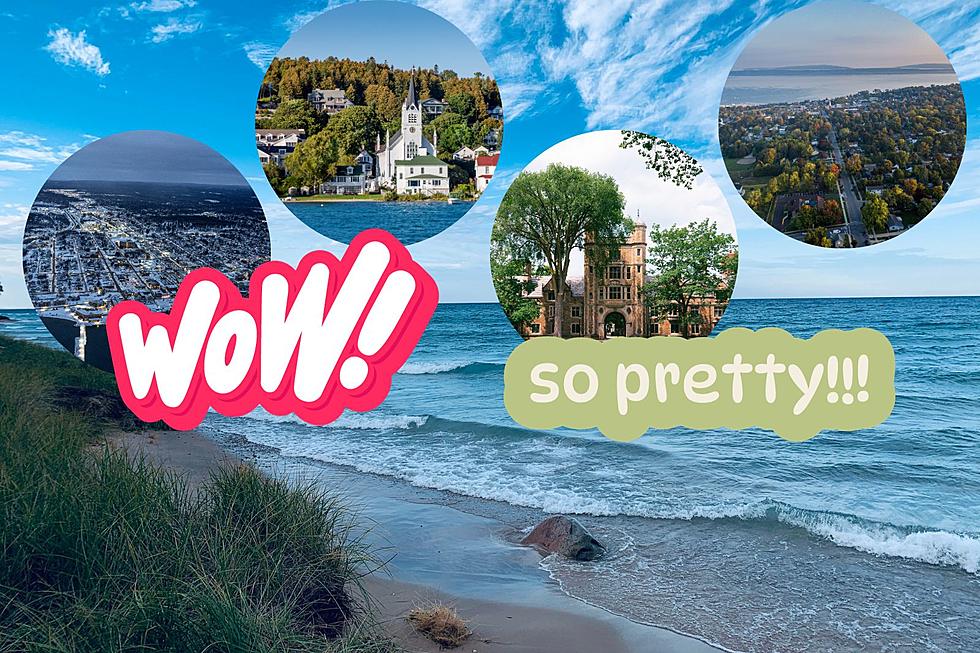 Love Visiting Michigan's 11 Prettiest Towns
Canva
Michigan is beautiful. There's always time to explore Michigan and visit one of the amazing towns within our state lines. Let's look at the 11 prettiest towns in Michigan.
I am not the type of guy to throw the term "pretty" around. If I ever use "pretty" to describe something it's because it really is, pretty. In fact I use that term so rarely that when I do, I have to ask those around me "did that word really just come out of my mouth?". You get what I'm saying, if I say "it's pretty", it has earned the street cred with me to use the adjective.
Michigan is littered with charming towns throughout the state. You can stop by the breweries, stay in fancy hotels and take on some new adventures. Small towns are awesome because it takes you away from the city life. Each of these towns has plenty to offer no matter what time of year it is. Michigan is a 4 season, fun filled state.
11 Prettiest Towns in Michigan
The folks at the travel do fun surveys and stuff like that. While they listed 10 cities, I added an eleventh because I thought the Michigan town I grew up in should be on the list.
This is where I grew up. The town is small and it sits on the shores of Lake Michigan in Southwest Michigan. You have your choice of beaches. Take a walk on the piers, expolore downtown St. Joe and make sure you get some pizza at Silver Beach Pizza.
My wife and I love going to Marquette and try to make it there twice a year. Downtown is awesome, the scenery is amazing too. The Travel adds:
Nestled on the shores of Lake Superior, Marquette is a haven for tourists during the summers. And why not, when there is so much to do in this town year-round? Even if a traveler does not want to do the regular stuff involving ski boots and hiking, there are plenty of other options to explore, including visiting museums and incredible lighthouses worth visiting in Michigan and the Great Lakes.
Straddling two beautiful lakes, Lake Michigan and Lake Leelanau, the coastal gem is a favorite among travelers who want to have it all. The museums, shops, and restaurants are all within walking distance; no wonder this charming town is known as a "walking around" town.
I grew up 20 miles south of South Haven. South Haven is pretty, no doubt. Grab lunch at Clementines and get the onion rings on a peg!
South Haven, with its bright red lighthouses standing tall like a shining beacon jutting out into Lake Michigan, along with its beach town heritage and maritime history, screams of summer fun. Although dubbed a small town, it has as many as 70 shops, restaurants, and boutiques.
Calumet is a drive, unless you're already in the U.P.
Looking for the perfect adventure offering in a rustic setting? Head straight to Calumet, 30 miles southwest of Copper Harbor at the edge of the Keweenaw Peninsula, which is one of the most picturesque towns Michigan has in store. It's known for its rugged terrain and the stunning Lake Superior shorelines. This charming town is the ideal place for outdoor recreational activities, especially its many hiking trails along the scraggly coastline. Calumet also offers a quaint downtown with many galleries, gift shops, coffee houses, and more; vacationers need plenty of time to discover the real Calumet.
I love the island. No cars, lots of fudge and get some fish tacos at the Pink Pony!
Mackinac Island is a captivating car-free area in Michigan that has been on the bucket list of avid travelers for years. Guests can get around the towns via boats, carriages, kayaks, and bicycles, making it one of the most environmental-friendly towns in Michigan. With its statuesque grand dame properties, the town offers a great architectural walk where tourists enjoy the architectural splendor in all its magnificent glory. Add to that great dining options and its iconic and delicious fudge, and travelers cannot have enough of this magical island town.
Frankenmuth is chock-a-block with restaurants, shops, and homes reminiscent of a German village, including the quintessential German things' beer, schnitzel, bratwurst, pretzel rolls, and more. Just three-square miles in size, Frankenmuth is as picture-perfect as it gets, with a covered bridge and a storybook-like Bavarian Inn. The town boasts unique events like the beer-tasting festival and the ultimate shopping bonanza at Bronner's Christmas Wonderland, making one feel like it's Christmas all year round.
Petoskey is one of the most scenic towns in Michigan, thanks to its magnificent architectural splendor and lakefront vistas that will entice travelers to the place again and again. The town has a bustling downtown, a pretty lighthouse, and a place to explore exciting water sports. Work around the itinerary to include a slice or two at the Mighty Fine Pizza and tease palettes with sparkling ciders and wine from one of the many wine breweries. It is the destination for travelers looking to immerse themselves in peerless scenic beauty, fancy restaurants, and luxurious accommodations.
Really? Ann Arbor? The Travel gives the reasoning.
Ann Arbor is a bustling university town in South-East Michigan. Often voted as one of the best places to live in Michigan, it is a hub of innovation, technology, and a happening downtown scene. It's also located less than an hour's drive from Detroit and ensconced in the picturesque setting of the North American Great Lakes. This town is easily one of the most serene and relaxing destinations on the Great Lakes and effortlessly marries the big city culture with small Midwestern town values. Ann Arbor, or Tree Town, as it is popularly known owing to the thick forest, offers stunning Huron River vistas making it a breathtaking place to live even if one is past his university years.
More love for GR. I like Grand Rapids, once every couple of years. The Travel disagrees:
Thanks to all-year great Grand Rapids weather, it is an easy-breezy and fun spring getaway. Also known as America's best beer city, with 30 breweries and a Beer City Ale Trail, it boasts a fantastic art scene and an inspiring music scene; the town offers an array of world-class attractions for each family member.
Nestled in the brilliant blue waters of stunning Grand Traverse Bay lies the gorgeous Traverse City, an epitome of the charming American small town; it serves as a social and cultural hub of northern Michigan. An absolute haven for sailors, swimmers, beachcombers, and kayakers, the glacier-carved backdrop of undulating hills, deep freshwater lakes, and rolling hills makes Traverse City a must-visit town.
This is One of Michigan's Smallest Towns
The Census Claims This Town is One of Michigan's Smallest