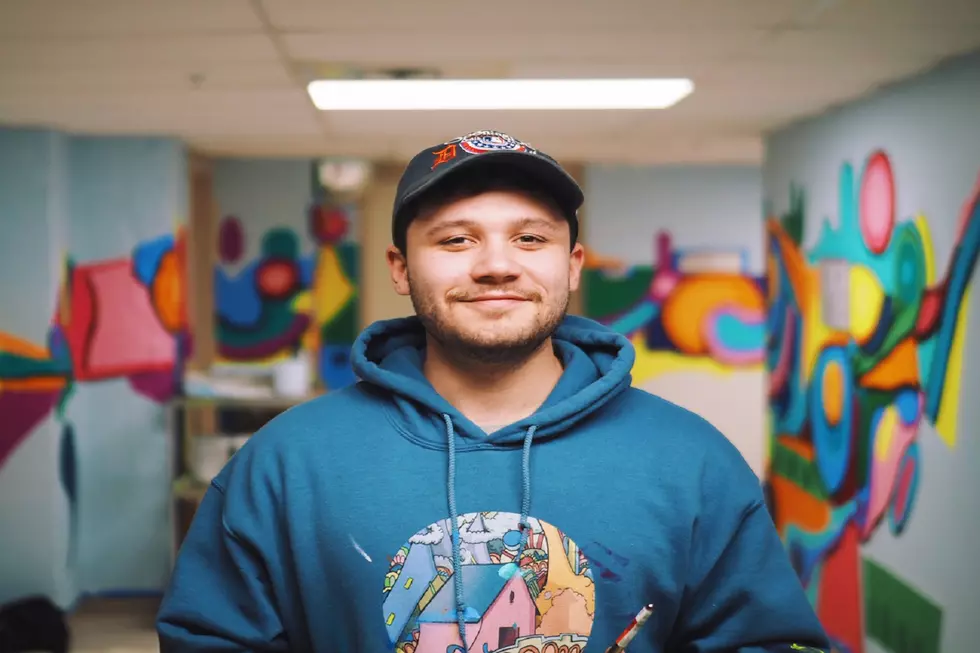 Mosey-ing With Maitlynn: Art By Zach Snyder
Mevo Creative Studios via Zach Snyder
Jackson artist, Zach Snyder, is currently taking on his largest project yet with a 4,972 square foot mural for Henry Ford Allegiance Hospital.
According to Snyder, the hospital had always wanted to do something to brighten up the long tunnel Zach is working on and after starting in the fall with submitting a proposal, sketches and going back and forth, he said it all "fell into place really smooth."
Snyder wanted to make it bright, colorful and happy as he knew patients would be coming through and says it has been "a huge learning experience" when it comes to accepting feedback.
"Some say I added too much color," Snyder jokingly said.
Starting as an illustrator, getting his degree from Grand Valley State University, Snyder then moved to "digital painting" and has now fully embraced larger-scale painting projects.
While this is Snyder's largest project to date, he did say he had a good warm-up with a mural for the Cascades Humane Society calendar fundraiser.
After talking with MLive and the Brooklyn Exponent, Snyder said he appreciates "people are spreading my art" and how well word-of-mouth is still a form of networking.
While he said with his abstract style, people's perceptions can be a "double-edged sword" because they don't immediately "get it" and sometimes their guessing can come off as mocking.
"If more people take a second and realize art is what you want it to be," Snyder said. "More people would be painting walls."
As someone who has been friends with Snyder for years and seen his journey from the days at Grand Valley, I could not be more proud of him.
If you want to see more of his art and what his past, present and future projects entail, you can find him on Facebook and online at "Art By Zach Snyder" and Instagram at @sneedart.