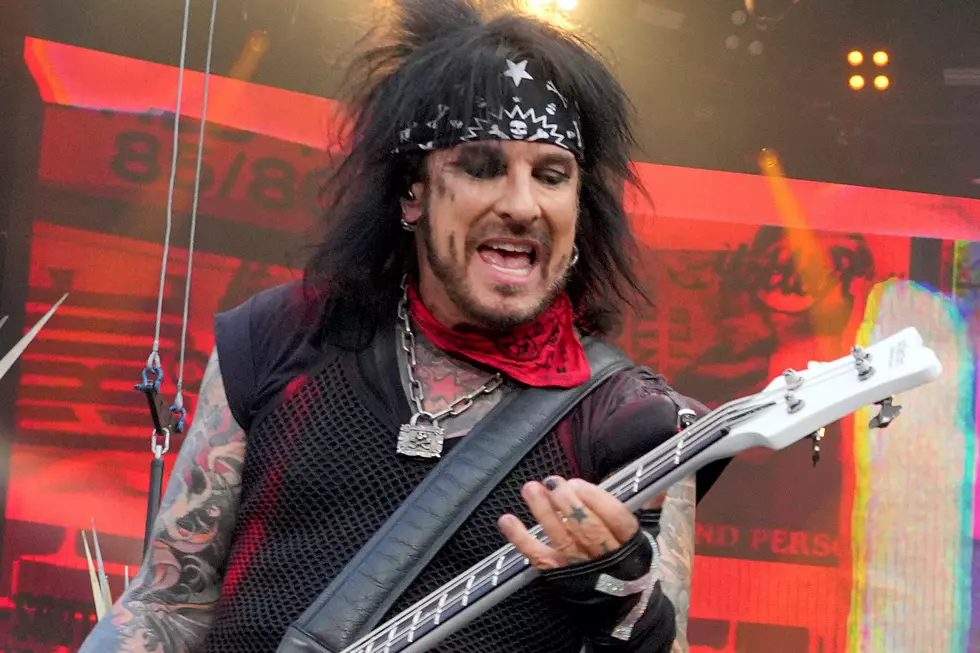 Motley Crue's Nikki Sixx – 'This Isn't a Final Tour,' Would Like 50th Anniversary Run in 2031
Kevin Mazur, Getty Images
Motley Crue are back touring after rescinding their retirement contract, and at present, retirement from the road is the furthest thing from their minds. After the hugely success "Stadium Tour" in the U.S. last year, the band is once again teaming up with Def Leppard on the "World Tour" and bassist Nikki Sixx says he doesn't see this run as being a one-off touring farewell for the group.
While speaking with Brazil's A Rádio Rock (as seen in the video interview below), Sixx revealed that the band members are getting along great, so well in fact that they've discussed the idea of keeping touring going for quite some time.
Longtime guitarist Mick Mars retired from touring last fall, though he remains part of the band. Meanwhile, John 5 has come on board to handle guitar duties on the road and the remaining band members intend to keep things going. Sixx commented that some loose discussions have been had about their touring future.
"Tommy [Lee] just had his 60th-birthday party [last October] down in Mexico, and he invited a small group of his very good friends. And I was there, and a bunch of cool Tommy's friends. All of our wives were there. John 5 came in. And it was just cool to be able to not talk business, be in rehearsal, get on the phone, talk about the photo shoot or the video. It was just hanging out, walking on the beach. And we had some sweet conversations," revealed Sixx.
"Me and Tommy and Vince [Neil] had this conversation. I said, I go,' What are you guys doing for the next eight years?' And everybody's laughing: 'I don't know.' I said, 'Why don't we just keep going? Let's just take it to 50 [the special anniversary for the band would be in 2031].'
While 2031 would be a goal for the group, nothing is set for certain. However, Sixx feels confident that the current tour leg will not be their last. "This isn't a final tour," Sixx stated. "What does that look like? I have no idea. I'm just telling you, you have the band saying, 'We're having a blast. Why stop?'"
Within the same chat, the bassist did not close the door on new music either. While the band did record new songs for The Dirt soundtrack, nothing is currently on the books. That said, Sixx added, "As far as new music — I think new music always comes when the band is getting along. We get along so great right now. We've been having the best time."
Motley Crue are wrapping up a South American tour leg tonight (March 7) in Sao Paulo, Brazil. They'll catch a little break before kicking off a late spring / summer tour leg May 22 in Sheffield, England. Get your Motley Crue tickets here.
Motley Crue's Nikki Sixx Speaks With Brazil's A Rádio Rock
Motley Crue: A Timeline of Their Storied Career