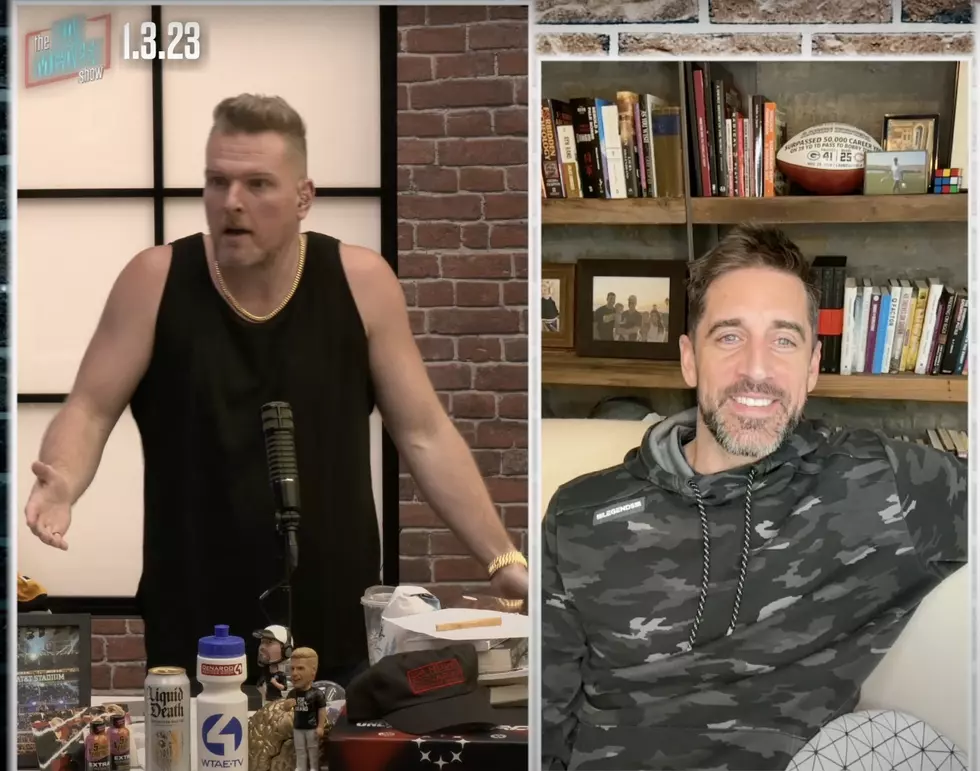 Pat McAfee Throws On-Air Tantrum Over Detroit Lions, Dan Campbell Declining Appearance On His Show
Pat McAfee Show via YouTube
I like Pat McAfee. I think he's a refreshing departure from the stale, all-too-familiar stable of talking heads in sports media. His big personality and youthful disposition have launched him into the very stratosphere of the business, which isn't easy to do, especially without any traditional media bona fides.
Even as a former NFL player, McAfee's ascent is remarkable considering that he, a punter, didn't play a premier position that lends itself to a lot of media attention or exposure.
He's redefining sports talk with his avant-garde, irreverent program, "The Pat McAfee Show." Oh, and he's a commercial success too; his show recently secured a sponsorship deal with FanDuel that's worth up to $120 million.
McAfee and his unique style — think of it as pro wrestling (McAfee has worked as a color commentator for the WWE) meets sports talk radio — have all the signs of a successful industry disruptor, breaking and rewriting the rules as he goes. And that's what makes his outburst on Tuesday so disappointing.
At the end of his weekly guest segment with Aaron Rodgers, McAfee wished the Green Bay quarterback good luck in the Packers' regular-season finale versus the Detroit Lions. Rodgers, never one to let an opportunity for petty grievances go unaired, asked McAfee if he was only rooting for him because the Lions' PR staff had declined McAfee's request to have Detroit coach Dan Campbell appear on his program leading up to the big Sunday Night Football showdown this weekend.
McAfee made it clear that he took Campbell's and the Lions' declination personally.
McAfee has built a media empire thanks in no small part to his genuineness, and that's a good thing. But his honest reaction here is the opposite of everything he's come to stand for.
Sports media's dirty little not-so secret is that it's corrupted by access. Access to coaches, players, administrators, programs, executives, franchises, donors, power brokers, owners, etc.
Ever wonder why a particular sports reporter won't ask one of the players or coaches he/she covers an obvious question about something negative that's transpired? Odds are it's because that reporter is afraid he/she will face punitive consequences in the form of reduced access, and then he/she will be at a professional disadvantage compared to other media who don't ask the hard-hitting questions.
This phenomenon is especially true in sports radio, where many media personalities have spent years — decades, even — holding grudges against specific sports figures all because they won't appear on said personality's program. It's not hard to find a talking head in the sports world who's formed opinions based not on things that transpired on the playing surface but on an instance when they were turned down. These slights, both perceived and otherwise (almost always perceived, by the way), are often more prominent in a sports media personality's mind than any statistic.
That kind of establishment-style politicking is precisely what has driven so many sports fans away from traditional sports media and directly into the audiences of emerging personalities, like McAfee. It only follows that seeing an iconoclast like him engaging in that same kind of nepotism-adjacent favoritism is disappointing, to say the very least.
To his credit, McAfee has since issued a mea culpa on Twitter, acknowledging that he behaved like a petulant child.
Here's hoping that McAfee means what he said in his apology and that he remains an outsider in an industry critically bereft of them.
LOOK: These Are the Richest NFL players
To uncover the richest NFL players,
Stacker
consulted
Celebrity Net Worth
and ranked them by their 2022 net worth, calculated using a proprietary formula.
LOOK: The story behind every NFL team name
Stacker
delved into the story behind every NFL football team name. Overall team records, also included, are reflective of NFL regular-season games. There are some football teams with well-known nicknames—the Jets, for instance, are often referred to as Gang Green—but we also divulge how some teams' official names are sparingly used (the Jets' neighbors, the Giants, are actually known as the New York Football Giants). Sometimes a team name can tell you a lot about local history: The Vikings of Minnesota draw upon the area's strong ties to Scandinavia, and the Tampa Bay Buccaneers are dripping in local legend related to Florida's pirate past.
Let's kick off the countdown with the folks who earned their nickname by buying boxes of used team jerseys.