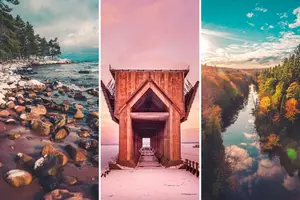 40 Extraordinary Free Phone Backgrounds For Michiganders
Photos by Max Bender on Unsplash / Composite Created with Canva
Michigan is one of the states with, arguably, one of the most diverse landscapes. We have cities, we have forests, we have some of the most incredible hiking, of course we have lakes and so much more.
There are so many incredible things and places to see in Michigan and equally as many things we maybe did not even know existed.
A Photographer's Playground
In this digital age we find ourselves in, people often refer to photogenic locations as "insta-worthy" but when it comes to photography, Michigan is just pure art.
Between the Great Lakes, the Upper Penninsula, National Forests, no matter where you are on this "Pleasant Penninsula" you are guaranteed either a beautiful sunrise, sunset (or both) and something that just makes you sit back and say "that's 'Pure Michigan.'"
Of course, more people have cell phones than cameras and often times, you can still take a fantastic photo with it...or you can just save ones that someone else took with a "real" camera and make it your wallpaper and look at it any time you want!
That's Where We Come In
Whether you want to save these photos and use them for your background, or just look at them, we have combed the internet and found some of the most incredible photos of Michigan. We think these would make some perfect wallpaper options for your phone, but you decide for yourself!
40 Free, Purely Michigan Phone Backgrounds
Michigan definitely has some of the most diverse, unique beauty in the United States. Why not show that Michigan pride wherever you go with these gorgeous photos that make the perfect phone backgrounds?
How to Save The Photos
If you saw any of these photos you feel like you absolutely have to have on your phone, we love that!
To save on an iPhone, you just press down on the image and a message will pop up asking if you would like to share it, add it to your photos, or copy it.
You could also screenshot it, but that would maybe lose some of the quality in the photo.
On a computer, just right click and save!
If you are using an Android, I apologize but there are so many different ones so just save them the same way you save any other photo.
50 of Michigan's "Must-Drive" Roads
Gas up the car, grab those road munchies and a roadtrip partner that you can trust, and head out on some of Michigan's most unique roads and routes. Make sure you take lots of photos and video!
See the Must-Drive Roads in Every State