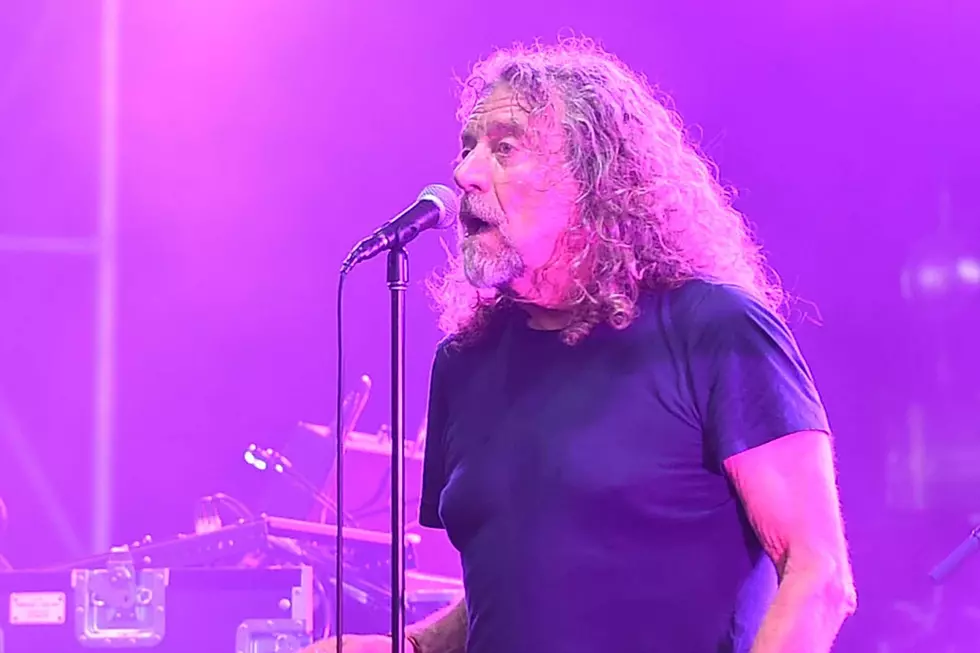 Robert Plant Sang Elvis Songs at His Ex-Wife's Birthday Party
Jason Merritt, Getty Images
While Americans celebrated Thanksgiving over the weekend, Robert Plant attended a 70th birthday party for his ex-wife Maureen.
He was spotted at the Fox Inn in Stourton, England, on Nov. 23, sitting in with the rockabilly band the Hayriders for a trio of Elvis Presley covers.
Plant sang "One Night," "Little Sister" and "A Big Hunk O' Love." After he finished, the onetime Led Zeppelin singer wished Maureen a happy birthday, jokingly called her an "old bugger." Cellphones were, of course, whipped out to capture the moment, as you can see below.
"All right," one of the Hayriders said after Plant left the stage. "That part of the bucket list ticked off!" The video then shows the band playing three more songs, including Johnny Cash's "Folsom Prison Blues" and Johnny Burnette & the Rock 'N Roll Trio's "Lonesome Tears in My Eyes."
Plant married Maureen Wilson on Nov. 9, 1968, the same day Led Zeppelin made their official debut at the Roundhouse in London, after performing a few months under the Yardbirds name. Seven years later, the Plants and their children were involved in a car crash while vacationing on the Greek island of Rhodes. The singer broke an ankle and an elbow, and his recovery, which included spending time in a wheelchair, affected the band's plans to tour behind Physical Graffiti.
Two years later, Plant was on the road in the U.S. in support of Zeppelin's 1976 album Presence when he received a call that his five-year-old son, Karac, had suddenly died of a stomach virus.
"I lost my boy," he reflected in 2007. "I didn't want to be in Led Zeppelin. I wanted to be with my family. ... I stopped taking everything on the same day. The most important thing to me is my family and when I got off my face, I found it difficult to be all things to the people that meant a lot to me."
Robert and Maureen Plant divorced in 1983.