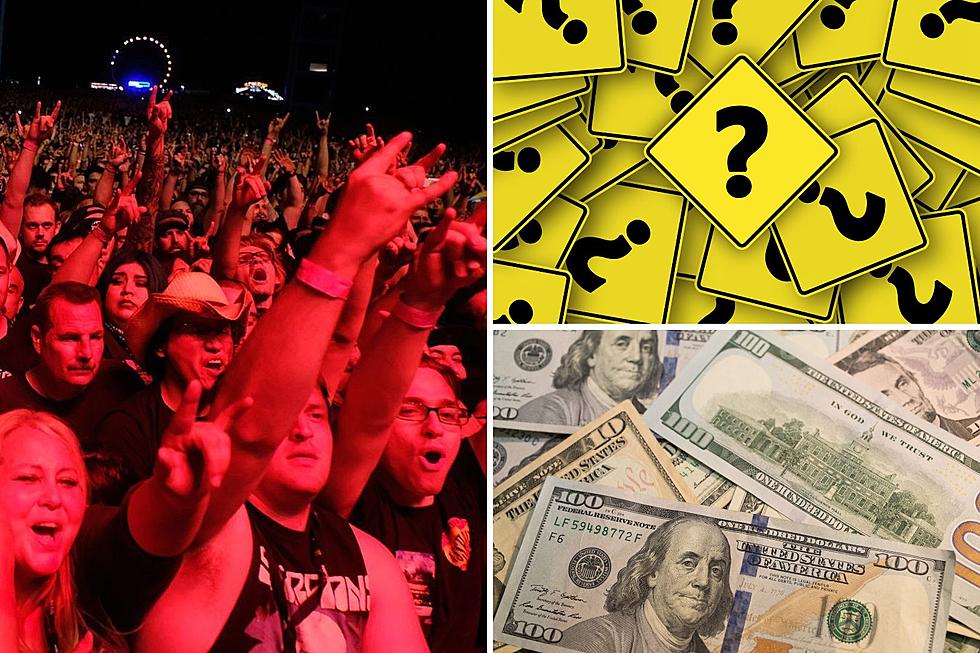 Rock Dominates Over Half of Billboard's New Top 10 Highest Grossing Tours of All Time
Frazer Harrison, Getty Images / Canva
In Billboard Boxscore's updated list of the top 10 highest grossing tours of all time, rock holds on strong and dominates over half the list, with two other active tours by young and veteran artists bookending the ranking.
Top Grossing Tours: No. 10 - No. 5
One of those active tours is English pop superstar Harry Styles' Love On Tour, which has been ongoing since 2021, raking in an impressive $418 million so far, which is good enough to secure the No. 10 spot.
Appearing next at No. 9 is AC/DC's Black Ice World Tour, which took place from 2008 to 2010. Across 107 shows attended by 2.8 million people, the run grossed $442 million. Pink Floyd bassist and co-singer Roger Waters occupies No. 8 as The Wall Live took in $459 million after playing to 4.1 million people at 219 total gigs.
Coldplay, who are rock to some and not to others (we'll let you decide for yourself), brought in $524 million on the A Head Full of Dreams Tour, which made 115 stops in front of 5.4 million fans. That landed them at No. 7 on the updated list.
READ MORE: Report Shows Only 5 Artists Sold More Tickets Than Metallica Over the Last 40 Years
Coming in at No. 6 and No. 5 are The Rolling Stones, who earned $547 million and $558 million on the No Filter Tour (2017-2019, 2021) and A Bigger Bang Tour (2005-2007), respectively. Comparatively, the more recent run was comprised of 58 shows for 2.9 million people and the mid-2000s jaunt was a more exhausting 111 shows for 3.5 million fans. It's safe to say the Stones earn quite a lot more per show these days!
Top Grossing Tours: No. 4 - No. 1
One of the most attention-grabbing tours of the last decade was certainly the Not In This Lifetime... tour, which featured the return of Slash and Duff McKagan to Guns N' Roses. After playing 158 shows to a whopping 5.4 million fans, GN'R netted $584 million, which places them at No. 4 on Billboard's list.
There's a significant gap in gross sales from the first seven tours on the list and the top three, leaping from GN'R's $584 million all the way up to $736 million for U2's 2009 through 2011 U2 360° Tour. The band played 110 shows on that run and a staggering 7.3 million people showed up.
No. 2 is another younger artist, English sensation Ed Sheeran, whose 2017 through 2019 The Divide Tour found him playing 258 gigs in front of 8.9 million fans. And $776 million was earned.
Finally, the No. 1 spot is claimed by a world-renowned legend whose tour is still ongoing, meaning these figures are going to keep increasing. Sir Elton John's Farewell Yellow Brick Road Tour initially ran from 2018 through 2020, but was interrupted by the pandemic. He got back on the road last year and, so far, this tour has brought in $853 million. The living legend's tour has sold 5.5 million tickets across 293 shows.
Past Touring Stats
In addition to tracking those top grossing tours of all time, Billboard regularly tracks the highest grossing tours of each year. Last year, the list had a healthy amount of rock and metal acts, from Iron Maiden (No. 26) through The Rolling Stones (No. 6). Read more here and for 2021's year-end figures, head here.
The Top 25 Best Selling Hard Rock + Metal Artists of All Time
These bands have been sold and streamed more than any other rockers. Sellouts!