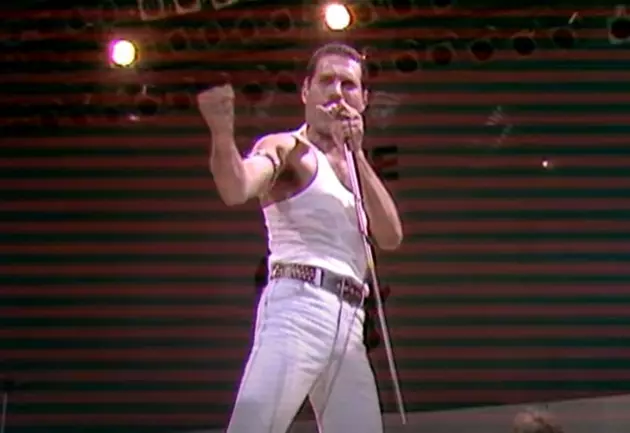 See Freddie Mercury Larger Than Life at the Capri Drive-In
Live Aid via YouTube
Now playing: Bohemian Rhapsody. See the hit film again and watch for these three things the movie got wrong and one thing they absolutely nailed.
This week marked the 35th anniversary of Live Aid. The worldwide concert took place on Saturday, July 13, 1985 at John F. Kennedy Stadium in Philadelphia and Wembley Stadium in London. If you've seen the movie Bohemian Rhapsody or seen footage of the concerts, you know Queen emerged as the champions of the world.
The thing is, nobody really expected much from them. By 1985, Queen's career had kind of stalled and lost momentum. U2 ruled the world at the time and delivered a blistering set at Live Aid and the crowd was looking forward to seeing David Bowie, The Who (their first performance in three years) and Elton John later in the evening. And then...Freddie. Brian May credits the band's frontman for their now legendary performance. "The rest of us played okay, but Freddie was out there and took it to another level."
If you've seen Bohemian Rhapsody, you know that Live Aid is the climax of the film and Hollywood, being Hollywood, took some liberties with the facts. Here's where they stretched the truth:
Queen was not a last-minute addition to the concert.
Live Aid was not a reunion. The band had never split up.
They didn't have to "get back into shape," their last tour had ended just 8 weeks before Live Aid.
This is what they got absolutely right:
The star, Rami Malek nailed Freddie's showmanship. Watch the film version and video of the band's Live Aid set side-by-side and see.
A 2005 BBC Poll of industry experts voted Queen's Live Aid set the greatest live performance in the history of rock. See the fictionalized version and the story of Queen on the big screen now through Thursday, July 20. at the Capri Drive-In.
Enter your number to get our free mobile app
READ ON: Weird, wild UFO sightings from throughout history