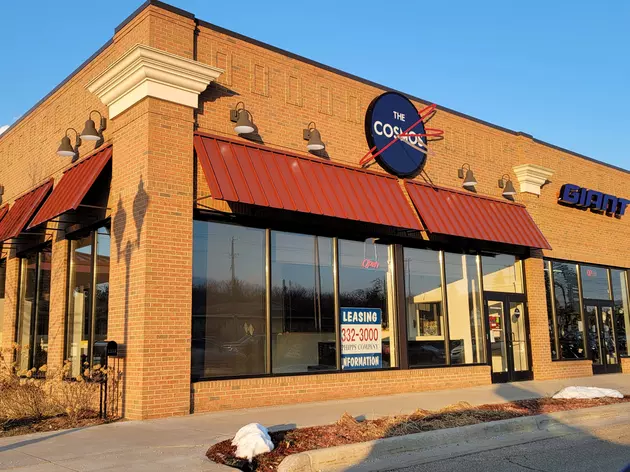 Did The Cosmos Restaurant in East Lansing Quietly Shut It's Doors For Good?
McConnell Adams TSM Lansing
It looks like The Cosmos East Lansing location is finally done and has closed up shop.
When did it happen and HOW DID WE MISS THIS ONE?
Honestly.
It was back in October of last year that we noticed that all things "Punk Taco" were missing from the East Lansing location.
This was gone.
And this was in its place.
Initially, the location shared both restaurants and it was magical.
Last October, it seemed like there was now only room for one restaurant in this building off of East Grand River Avenue.
However, there is no official word online from anyone about the fate of Punk Taco other than the fact that it just doesn't exist where it used to be.

Read More: Did We Miss This? Another Lansing Restaurant Has Just Disappeared
Scratch that, now everybody is gone.
It's now the beginning of March 2022 and it looks as if both restaurants are done at this location.
The writing might not be on the wall or anywhere to be found on social media.
But in the window.
If you Google The Cosmos East Lansing you get this.
That red permanently closed banner is a dead giveaway.
NO official word was given but we can just imagine why. We're just trying to figure out when.
We told you about The Cosmos being the last man standing back in October.
Reviews of the place are listed on Google from about 2 months ago. So between January and now, we can "assume" that's when this happened?
It was awesome to have both Punk Taco and The Cosmos on the east side.
Sadly there is no more Punk Taco at all and if you want this...
You're going to have to head HERE.
East Lansing Needs A 24-Hour Pizza Vending Machine Like These Ones in Jackson
East Lansing is a college town, home to MSU. And because of that, there are a bunch of young adults around town; living, working, going to school, and going out to the bar. That's why East Lansing needs a 24-hour pizza vending machine like these ones in Jackson.
30 National Restaurant Chains On The Verge of Disappearing Completely
Most of these chains have locations in Michigan, a handful are not in our area. There are some surprising favorites.
A Look Back at the Lansing Restaurants That We Lost in 2021
Lansing is home to tons of great food, but like the sign of the times, we did lose a few restaurants in the year that was 2021. Take a look down memory lane with us as we explore some now closed restaurants in Lansing.