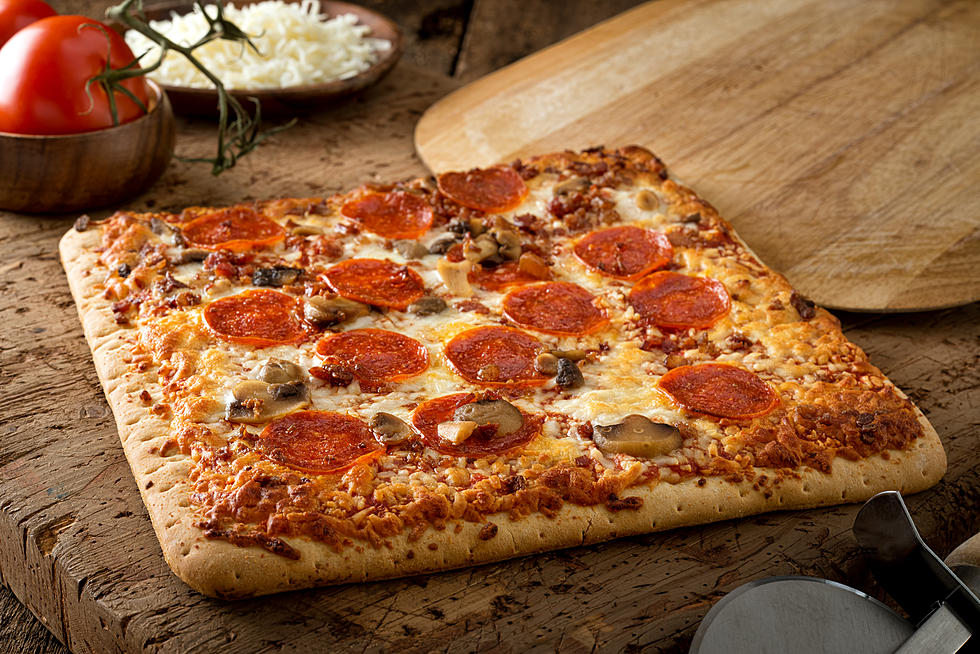 DiGiorno Set to Bring Detroit-Style Pizza to the Frozen Food Aisle
Fudio
You're soon going to be able to get the thick, chewy crust of a Detroit-style pizza in the grocery store, thanks to DiGiorno.
DiGiorno announced that the new Detroit-style pies should be landing in the frozen food aisle sometime this spring or summer, which translates to any day now.
What is Detroit-Style Pizza?
Say whatever you want about the Motor City, they make some damn fine pizza. Detroit-style pizza is typically baked in a rectangular pan and has a thick, crisp, chewy crust. It's traditionally topped with cheese and toppings right out to the edges.
According to this site, Detroit-Style pizza was developed at Buddy's Rendezvous at the corner of Six Mile Rd. and Conant Street in Detroit. The pies were introduced in 1946, but there seems to be some discrepancy about where the actual recipe originated. It took decades for the idea to spread from the Motor City to other parts of the country.
Why is it Baked in Rectangular Pans?
It is believed that Detroit-style pizzas were originally baked in rectangular steel trays designed to be used as automotive drip pans or to hold small parts in factories. Regardless of whether or not that's true, the rectangular trays give Detroit pizza a killer, crunchy crust on the outside of each piece.
DiGiorno Introducing Three Varieties
According to Mlive, DiGiorno will be introducing three variations of its Detroit-style pizza, Double Pepperoni, Four Cheese, and Three Meat.
We. Can't. Wait.
Detroit's Historic Bishop Mansion Lists at $9M
This massive, 32,000-square-foot mansion in Detroit's Palmer Woods District was built about 100 years ago.
It's not only served as the primary residence for Archbishops of the Archdiocese of Detroit, but it has also been owned by Detroit Pistons star John Salley.
LOOK: 20 American foods that raise eyebrows outside of the US
Stac



ker
compiled a list of 20 unusual and uniquely American foods that might raise eyebrows outside the U.S.
10 Jobs in Michigan That May Completely Disappear by 2030
Unfortunately, with new technology and inventions, many companies are able to automate and/or cut back on the number of employees needed to complete a task.