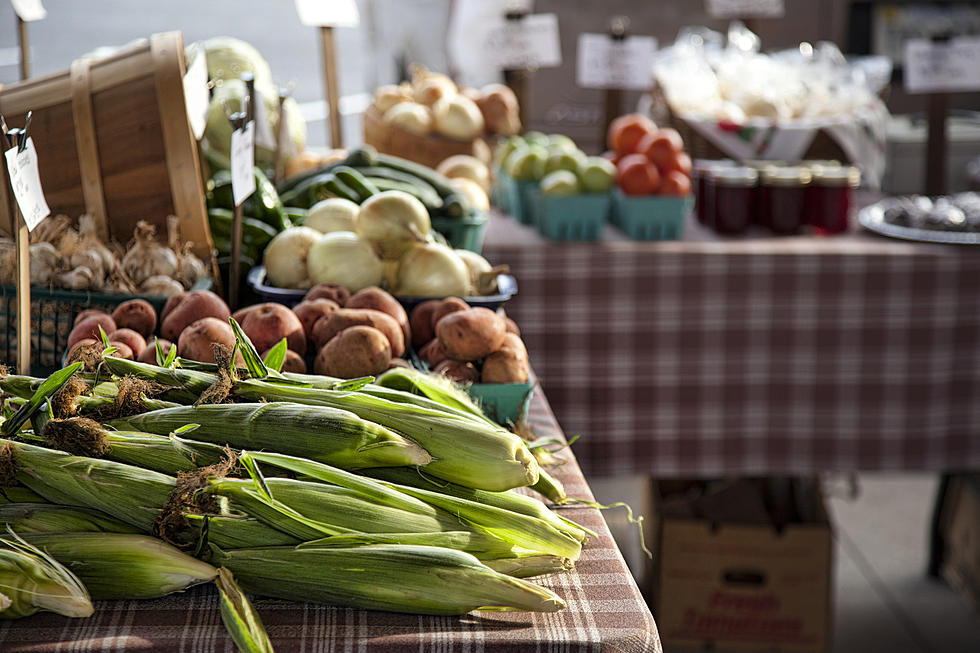 Lansing Area Farmers Markets Are Coming Back
YovoPhoto
I have always enjoyed picking up fresh picked food at local farmers markets. You can get it all at a grocery store, but there is just something about going to a Farmers Market, you know where it came from and you probably met one of the growers family members. Fresh tomatoes, Corn, Apples, Watermelons, and all kinds of garden vegetables are right there waiting for you to take home and consume.
It's a seasonal thing here in Michigan, they are open year round down south, but nobody's outside selling fresh vegetables here in the winter time. So we look forward to the warmer seasons when the farmers stock their markets with the fruits of their crops. The time is here to seek out your local farmers market, they are stocked and ready to sell.
Shopping at the grocery store is convenient, but farmers markets have a sense of heart that a big box store could never match. After a difficult year under the pandemic, farmers markets in the Lansing area are opening up and expecting waves of shoppers. Here are some of the best spots you can find around town, each one full of locally grown food and artisanal goods.
Here's where to go:
Allen Farmers Market
Only open Wednesdays 2:30-7pm
2100 E. Michigan Ave., Lansing
(517) 999-3911 Website
Charlotte Artisans and Farmers Market
Open Thursdays 2-6pm
248 W. Lovett St., Charlotte
(517) 543-8853 Website
East Lansing Farmers Market
They are open Sundays June 6 to Oct. 31, 2021 10a-2p
(517) 319-6823 Website
DeWitt Farmers Market
414 E. W. Main St., DeWitt
Tuesdays 4-7pm through 10/12
(517) 624-0286 Website
LFA Farmers Market
Tuesday to Saturday, 11 a.m. to 6 p.m.
Sundays 11-5pm
103 E. Maple St., Mason
(517) 441-3456 Website
Peckham Farms
Open Mon-Fri 10a-6p
5408 W. Grand River Road, Lansing
(517) 321-3305 Website
South Lansing Farmers Market
Thursday 3-7pm through 10/21
800 W. Barnes Ave. Lansing
(517) 374-5700 Website
Bath Farmers Market
Thursdays 3-7pm
James Couzen Park
13753 Main St. Bath Twp.
(517) 281-7402 Website
Dimondale Farmers Market
136 N Bridge St, Dimondale 48821
Thursday 3-7pm
(517) 646-0230 Website
Farmers Markets at the Capitol
Coming back 9/30 - check website for more info
(517) 432-3381 Website
Grand Ledge Farmers Market
Saturdays 9a-1p through 10/2
Jaycee Park
525 E. River St. Grand Ledge.
(517) 242 – 2756 Website
Holt Farmers Market
Fridays 2-6pm, Saturdays 9a-2p through November
2150 Cedar St., Holt
(517) 268 – 0024 Website
Meridian Township Farmers Market
Saturdays 8a-2p through October - Wednesdays starting in July
5151 Marsh Road, Okemos
(517) 712-2395 Website
Old Red Mill Farmers Market
Saturdays 9a-1p through October
Water Street, Portland
(517) 647-4014 Website
St. Johns Farmers Market
Saturdays 8-Noon through October
100 Maple St., St. Johns
(989) 227-1717 Website
Eaton Rapids Farmers Market
Open through 9/29 3-6pm Wednesdays, 9-Noon Saturdays
114 Hall Street, Eaton Rapids
(517) 663-8118 Website
So now you have all the resources you need to go and get some fresh fruit and vegetables and support our local farmers. Eat healthy and enjoy all that Michigan farmers have to offer.
SEE MORE: Pictures From Horrocks Farm Market
SEE MORE: Meridian Township Farmers Market
MORE TO EXPLORE: The Best Places for a Michigan Picnic