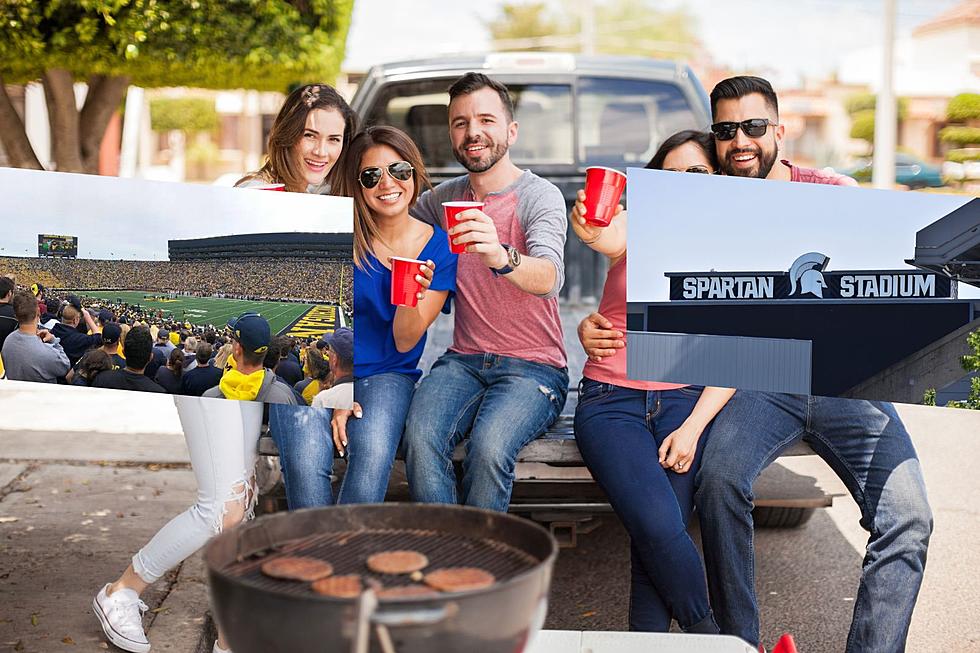 Love Tailgating? Get Your Tailgate ON at These 5 East Lansing Stores
Canva
The U of M vs MSU game is Saturday night at 7:30 at Spartan Stadium in East Lansing. It will be a great day for tailgating and a beautiful night for football. Spartan and Wolverine fans will gather for fun, food, drinks and smack talking at their tailgates. Getting food is easy and convenient, check out these 5 stores for your tailgating needs that are close to tailgate spots in East Lansing.
The weather forecast calls for football weather. Temps in the 50's with a chance of rain throughout the day. Michigan is ranked #2 and the Spartans are playing for their pride in this game. Regardless of what either team's record is, both teams will be amped and ready to play. The same goes for your tailgate.
If you're a last minute tailgate planning type of person, you'll find these suggestions to get your tailgate spread useful because they are close to campus. Traffic will be heavy and convenience is the key.
5 East Lansing Area Stores To Get Your Tailgate Food & Bev
Big Ten Party Store Okemos - 2950 Jolly Rd, Okemos, MI 48864
Here's the deal, Big Ten has any type of beverage you can imagine. They are close to campus too. A quick right out of the parking lot gets you to Hagadorn Road, head north on Hagadorn and you'll arrive on campus.
Quality Dairy - 5010 Dunckel Rd, Lansing, MI 48910
The QD at Jolly and Dunckel in Lansing is easy to access from the highways and the surface roads. Get donuts for your sweet tooth, coffee if you need it, beverages and ice. Bring on the QD Chip Dip, it's the best. It's 5 minutes from campus.
Jersey Giant - 2546 E Jolly Rd, Lansing, MI 48910
If you are in a rush to get to your tailgate, you can't go wrong with sub sandwiches. Grab a few of their subs and bring them to share. Eating a sub is something you can do anytime during your tailgate.
Mert's Specialty Meats - 1870 W Grand River Ave, Okemos, MI 48864
Grilling is a part of tailgating that should always happen. If you want to get in on some awesome meat, hit up Mert's. They also have snacks and beverages. Throw some of their burgers on the grill and satisfy your guests. They are about 10 minutes from campus.
Pizza House - 4790 Hagadorn Rd Stes 114-116, East Lansing, MI 48823
Pizza House is on Hagadorn, across the street from the campus of MSU. These guys have a wicked menu with tons of options. Order some pizzas, burgers, sandwiches, appetizers and bring them to the tailgate. Their to go packaging is pretty impressive.
Think You Know Your State's Favorite Fast Food Drive-Thru?
Think you know your state well enough to name its fast food favorite restaurant? A lot has changed over the past few years and,
Allrecipes.com
took a deep dive into Google searches to determine which drive-thru your state turns to the most
Gallery Credit: Scott Clow