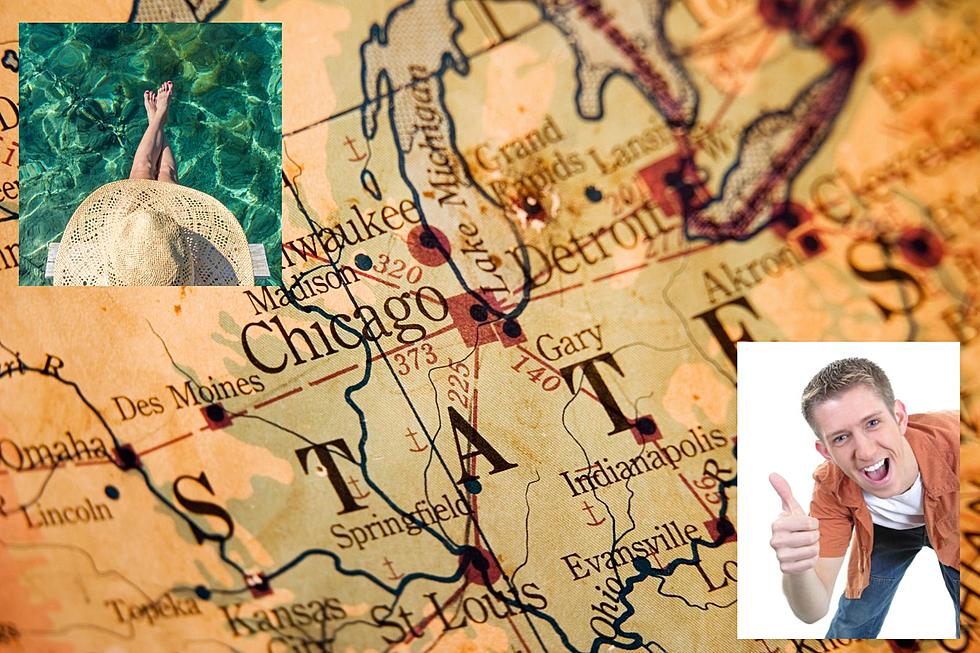 Two Michigan Locations Are Best In Midwest For Vacations
Canva
The Midwest United States can be boring and blah. There's some fun things to do in the Midwest if you're up for the roadtrip. Two locations in Michigan are considered some of the best places to vacation in the Midwest.
Of course I am partial to the mitten since I live in Michigan, I think there's more than two locations in Michigan that could make this list. U.S. News & World Report did a survey to determine where the best places to vacation are in the Midwest. You know it's serious if U.S. News is doing it, right?
Going on vacation means something different to everyone. We each have our own desires and wants that we would like to accomplish on vacation and U.S. News sums up their evaluation like this:
From big-city adventures to small-town escapes, these locales highlight some of Middle America's top destinations.
Of thirteen cities listed, Michigan has two destinations listed, that's not bad.
What two Michigan locations are best in Midwest for vacations?
Mackinac Island, Michigan
The synopsis:
Head to Michigan's Mackinac Island for a classic American getaway that will transport you back in time. Victorian architecture is on display everywhere you turn, and no cars are permitted anywhere on the island. The only way to arrive is by boat or plane – and to get around the island, you'll need to book a horse-drawn carriage tour, hop on a bike or explore by foot. Families with teens may especially enjoy horseback riding in Mackinac Island State Park, visiting Fort Mackinac, parasailing or paddleboarding to Arch Rock. Don't forget to try some of the island's famous fudge.For a stay filled with old-world charm (think: a classic white porch with rocking chairs, a parlor with afternoon tea service, and croquet and bocce ball games in the Tea Garden), book a room at the iconic Grand Hotel. Welcoming guests since 1887, the property boasts the world's longest porch and individually appointed accommodations. In the evening, dress up for dinner and then dance the night away to the music of the Grand Hotel Orchestra. The resort offers all-inclusive packages that cover accommodations, daily breakfast and dinner, all resort amenities and other perks.
The Island is a blast. Take a bike tour. If you can stay on the Island try that too. Eat at the Pink Poney. Don't worry about the horse manure, they have people to clean it up.
Traverse City, Michigan
Why did TC make the list?
Travelers with kids keen on exploring the great outdoors in the summer – or the snowy festivities of winter – should look no further than Traverse City. Located about 145 miles north of Grand Rapids in northern Michigan, this city overlooks Lake Michigan and boasts long summer days that visitors can spend hiking, biking and fishing. Enjoy the scenery at Sleeping Bear Dunes National Lakeshore while trekking the protected area's trails, including the daunting Dune Climb. For adults, there are abundant wineries and craft breweries for sampling libations of all sorts. Families visiting in winter should also take advantage of the area's frequent snowfall for skiing, snowshoeing and fat biking.There are several major chain hotels in town to choose from, but families may enjoy staying at the Great Wolf Lodge Traverse City. This kid-friendly property features indoor pools and water park fun that everyone can enjoy year-round.
Traverse City is fun no matter what time of year it is. My wife and I have a tradition of visting Traverse City over the Thanksgiving Day weekend.
25 Bucket List Things to Do If You're New to Michigan
Michigan residents say these are must-do items for your to-do list if you've just moved here.