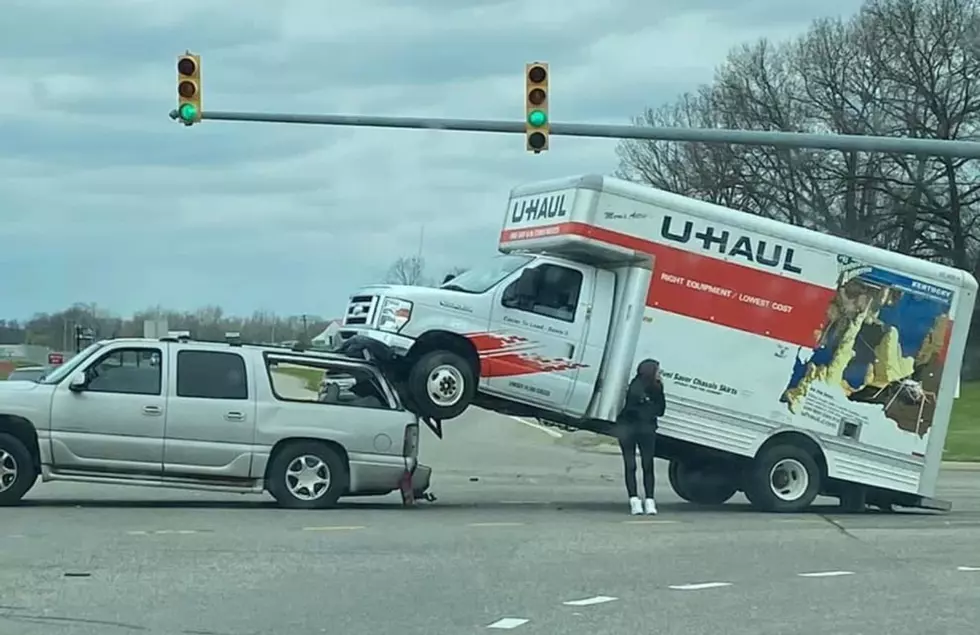 How Did This Happen? A U-Haul Ended Up On Top Of A Denali (Video)
Credit: West Michigan Breaking News via Facebook
Have you ever driven by an accident and wondered "How the hell did that even happen"?
That's what people in Battle Creek, Michigan were probably thinking when they rolled up an accident involving a Chevy Denali and A U-Haul moving truck.
Where Did The Car Accident Happen?
The accident took place on the corner of Dickman and Helmer in Battle Creek.
How Did The Accident Happen?
At the time of this article being published, I have yet to find the exact reason behind how this accident happened. My guess is that either the Chevy Denali had to slam on the brakes very quickly or the U-Haul was driving way to fast with the weight it was carrying and ran into the back of the Chevy Denali.
What People On Facebook Had To Say
Jessica Love commented: Well it is mating season for many species.... guess they couldn't resist
Tena Sella commented: Hmm, I wonder what the baby will be!
Duane Hendricks commented: Why would the suburban back under that U-Haul like that?
Jake Soja commented: So this is what squatted trucks do in their spare time
Video: U-Haul Truck On Top Of A Chevy Denali  (
WARNING NSFW LANGUAGE 

)

If anyone knows what actually happened please reach out to me. I'd love to give an official update. Until then I just hope that everyone involved is safe and well.
Check Out These Bad Drivers
Battle Creek Castle for Sale for $160K
Built in 1906, the Penniman Castle is on the market in Battle Creek, Mich. for $160,000. According to the
listing
, the unique residence has five bedrooms, 2 and 1/2 bathrooms, and sits on .27 acres in the heart of Battle Creek. The property includes a two car garage and a finished basement that *may* still have a secret passage leading to it from one of the upstairs bedrooms, according to the
Battle Creek Enquirer
.
Detroit Artist in the Rock & Roll Hall of Fame
Detroit is known for the automobile industry it's true, but the city has made its mark by producing some of the biggest stars in music as well. With the induction of rapper Eminem in 2022, Detroit has 20 artists inducted to the Rock & Roll Hall of Fame. From soul, to rock, to funk, and R & B, take a look at the best of the best Detroit has given the world of music.
The 5 Craziest Tourist Traps in the Midwest