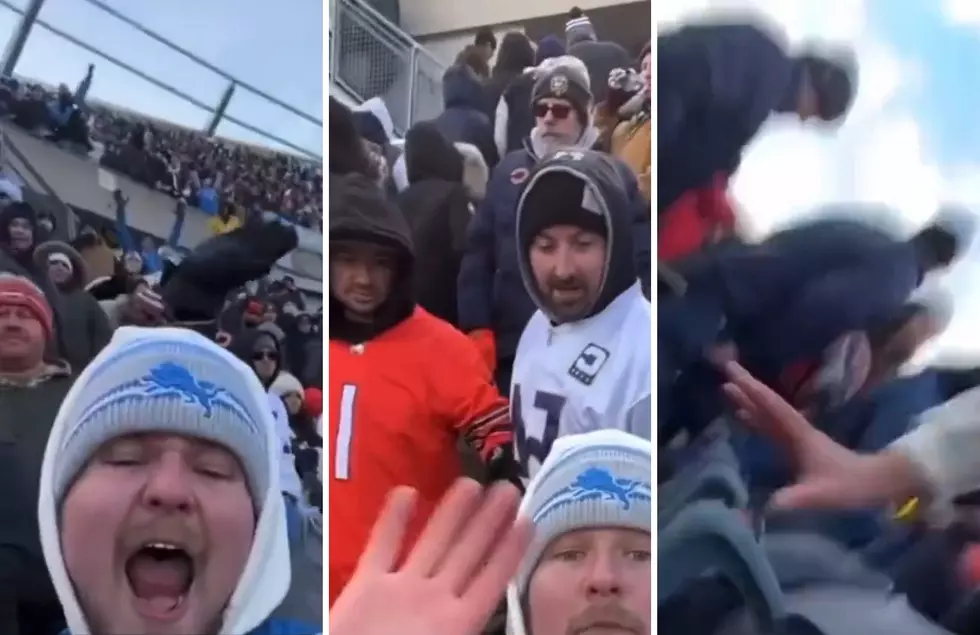 Being A Lions Fan Is Tough! Especially When You Get Tossed Down The Stairs
Credit: @DETclips via Twitter / Canva
Being a Detroit Lions fan is tough!
We've never had the joy of seeing our team win a Super Bowl unless you count Matthew Stafford's win with the Los Angeles Rams.
A Detroit Lions fan attending the Lions vs Bears game at Solider Field on Sunday saw the team win a close one 31-30. But while celebrating the win they had something very unexpected happen. They got pushed down the stairs by an upset Bears fan.
What Happened In The Stands?
The video starts out with Chicago Bears QB Justin Fields running for his life from the Detroit Lions defense. After evading several sacks he is taken down, which leads to the Lions sealing the deal and getting the win over their NFC North rivals 31-30.
After the play ended, the Detroit Lions fan started celebrating with his buddy and turned the camera to some Chicago Bears fans behind him in the stands.
He then turned the camera back on the Bears fans who were not handling the trash-talking too well. You can see the guy strike the lions fan with his left arm in the chest.
The Lions fan plays it off and just keeps on talking trash to the upset Bears fans.
And then when it looks like it's all over and the Bears fans are going to lick their wounds and walk away, the guy on the left pushes the Lions fan down the stairs.
Watch: Lions Fan Pushed Down Stairs At Soldier Field Following Bears Loss
Amazing Transition From Wrecked Basement To Detroit Lions Man-cave
Whether or not the Lions win or lose, there's no doubt the owner is gonna be enjoying Sunday football in style.
These 10 Celebrities All Root For The Detroit Lions
Look, I can't hate on you for rooting for them. It's a Michigan thing. Check out these celebrities who also root for the Detroit Lions.