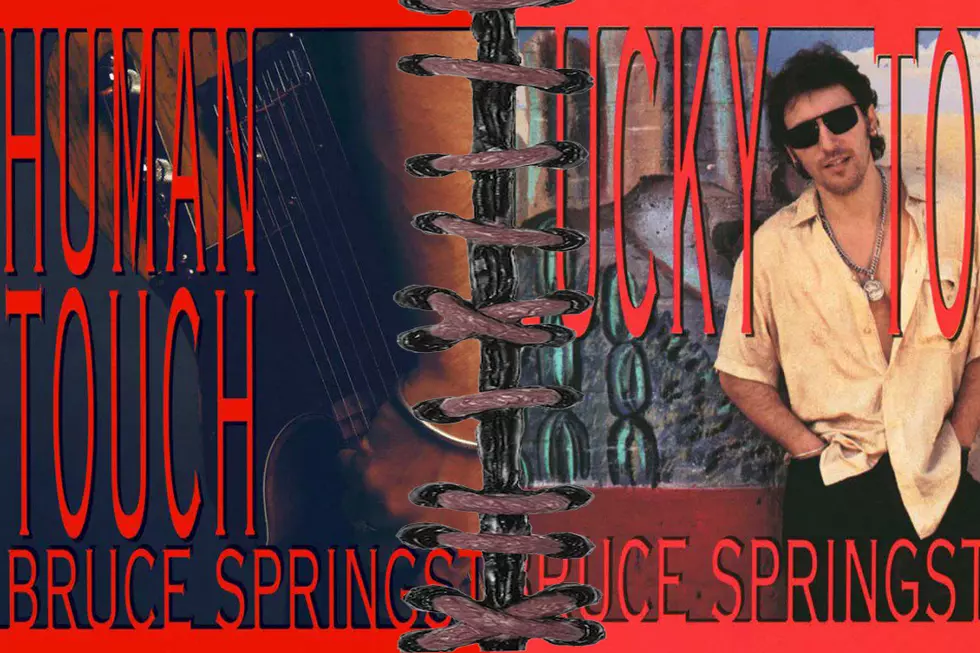 When Bruce Springsteen Released Two Albums on the Same Day
Columbia
It took Bruce Springsteen four and a half years to follow-up 1987's Tunnel of Love. But he made up for it with a grand gesture, releasing Human Touch and Lucky Town on the same day: March 31, 1992.
The intervening years had been tumultuous for Springsteen. As the Tunnel of Love Express tour reached Europe in the summer of 1988, it was reported that Springsteen — who had mostly been successful at keeping his personal life out of the tabloids – was having an affair with backup singer Patti Scialfa and had separated from wife, Julianne Phillips.
A year after participating in Amnesty International's Human Rights Now! tour, he did the unthinkable and fired the E Street Band, and he and Scialfa left New Jersey for Los Angeles, where they got married less than a year after the birth of their first child. The only music heard from Springsteen during this time was a pair of 1990 solo acoustic benefit shows for the Christic Institute, where he debuted six songs over the two nights.
During his absence, the alternative movement became the dominant strain of rock music, and when the albums' lead single "Human Touch" arrived, it showed just how out-of-place a glossy '80s production — heavy on the synths, compressed guitars — sounded in the age of Nirvana and Pearl Jam. It didn't help that most of the E Street Band — Roy Bittan remained on keyboards, and Scialfa contributed background vocals — had been replaced by session pros like bassist Randy Jackson and drummer Jeff Porcaro. While they're excellent and versatile musicians, they lacked the innate empathy that the E Street Band brought to Springsteen's songs.
The slick professionalism of Human Touch meant that the best songs had to fight to be heard. "Real World" worked better when performed solo on piano at the Christic concerts, but here it and "Roll of the Dice" turned into shouting matches with singer Sam Moore (from R&B greats Sam & Dave). "Man's Job" and "I Wish I Were Blind," the former a solid slice of pop-soul and the latter a paranoid ballad, found Springsteen effectively channeling Roy Orbison, both in vocals and songwriting, for the first time in years.
Watch Bruce Springsteen Perform 'Human Touch'
But the overall fault of Human Touch lies with Springsteen, who created his most inconsistent batch of songs to date. "57 Channels (And Nothin' On)" worked fine as a silly rockabilly tune at the Christic dates, but faltered when placed third in the album sequence (especially with an over-serious arrangement). "Cross My Heart," "Gloria's Eyes" and "The Long Goodbye" are nondescript. And there's no excuse for the travesty of "Real Man."
Springsteen fared much better on Lucky Town. As the story goes, he was trying to find one last song to complete Human Touch, and wound up writing an entire new album's worth of songs that reflected his newfound happiness. But rather than remove Human Touch's weakest moments and replace them with the best of the new material, Springsteen decided to put out two separate albums.
Lucky Town succeeded in every place Human Touch failed. Playing nearly all the instruments himself, except for drums (which were supplied by Gary Mallaber), Springsteen has rarely sounded looser on record, particularly on the opener "Better Days" and "Local Hero," a surprisingly wry comment on fame. The ballads felt more personal too, with "If I Should Fall Behind," "My Beautiful Reward" and "Living Proof" — reportedly the song that he was originally targeted for Human Touch — serving as moving statements of hard-earned love and domestic bliss. Its prime flaws are the tunes where Springsteen interrupts the mood with social commentary, like on "The Big Muddy" and "Souls of the Departed."
Even though they arrived on the same day, fans gravitated toward Human Touch because of its title track, a Top 20 hit that included "Better Days" on its B-side. Human Touch peaked at No. 2 and Lucky Town reached No. 3 (Def Leppard's Adrenalize, which was also released that day, topped Billboard's album chart the next week). The lukewarm reception given to Human Touch's second single, "57 Channels (And Nothin' On)," caused both albums to quickly slide down the chart.
A world tour, with Bittan and Scialfa on board, followed. Since then, Springsteen has rarely performed the songs from those records, though "If I Should Fall Behind" was played regularly on the 1999-2000 reunion tour with the E Street Band and during the 2006 Seeger Sessions tour.
See Buce Springsteen Among the Top 100 Live Albums