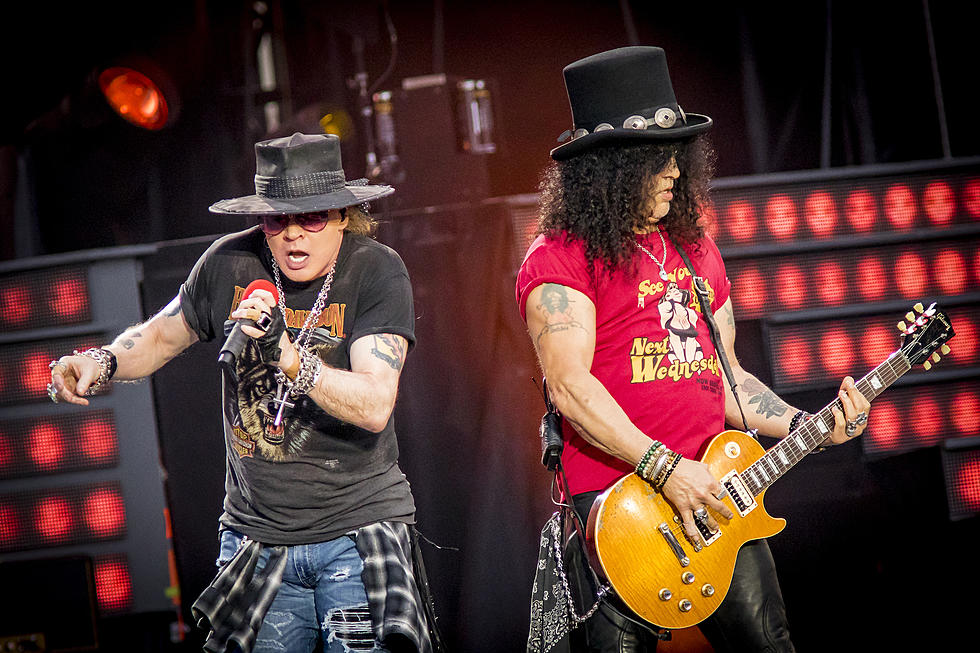 Guns N' Roses to Work on New Album After October Tour
Mark Horton, Getty Images
Between Tool, Rammstein and Guns N' Roses, there's a lot of chatter about new albums many feared would never arrive. With new ones from Tool and Rammstein an almost certainty for 2019, all the pressure is now on GN'R and Slash has confirmed they'll get to work on it after an October tour.
Mapping out his plans for the year, Slash told Chile's Futuro 88.9FM that he will be on the road with The Conspirators from now until August, hitting territories in South America, Europe, the United States and Canada.
"And then after that, I'm gonna hook up with Guns N' Roses," the guitarist continued, noting, "Guns N' Roses has a small tour in October."
He then revealed he will begin work on two new records: one with Guns N' Roses and another as the follow-up to Slash Featuring Myles Kennedy and the Conspirators' 2018 album, Living the Dream. "There's been so much talk about this [new] Guns N' Roses record, which we haven't actually done anything with," commented Slash, going on to say, "So we're gonna sort of focus on that. And then The Conspirators will be [regrouping] some time coming up, depending on what Guns N' Roses is doing. But I've already started putting together material for the new Conspirators record."
In February, Slash had confirmed that there is material for a new GN'R album, but acknowledged that there's no master plan. The band's first scheduled show for 2019 was announced last week when it was revealed that they would be one of the headliners at this year's Louder Than Life Festival.
Every Guns N' Roses Song Ranked