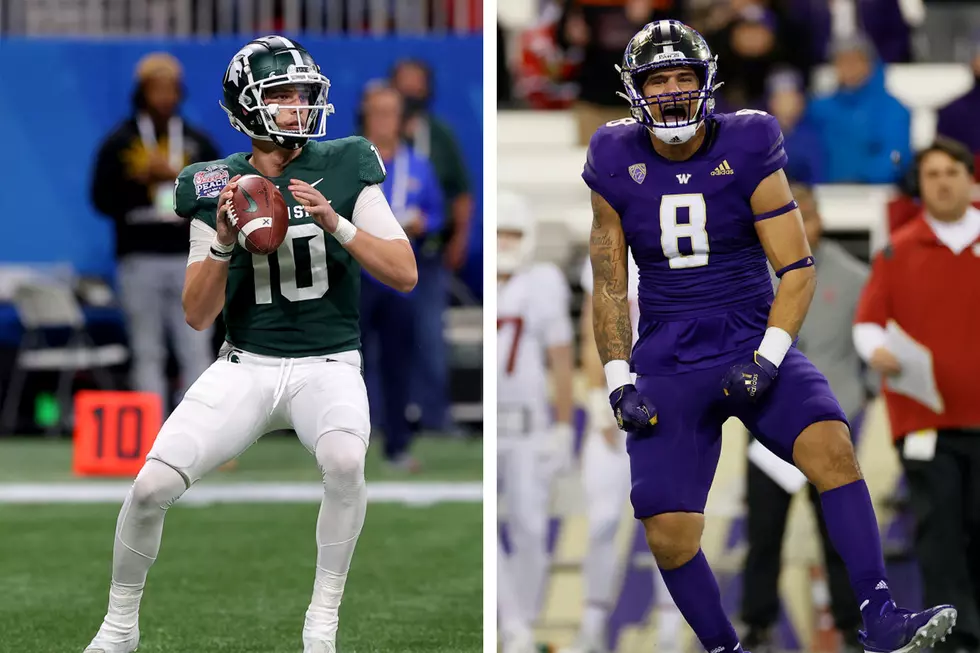 Here's What The Line Movement For Michigan State At Washington Means For Sports Bettors
Getty Images
Michigan State opened up as a 3-point favorite on the road at Washington. But just a couple of days later, the spread flipped to favor the Huskies by 3.
By late Thursday, the point spread was holding steady at most books with Washington -3. Fanduel had Washington at -3.5.
If you're a sports bettor, what's happened with the line in this game ought to get your attention.
Intriguing Line Movement
Over the course of really just a matter of hours, MSU went from a 3-point favorite to a 3-point underdog. But why?
According to Action Sports, 73 percent of the total bets on this game's point spread have been placed on the Spartans, and 68 percent of all the money wagered is on MSU to cover. Generally, you can get a sense of what professional gamblers think by looking at the total money distribution for a given bet since the people who do this for a living wager in vastly larger amounts than your typical sports bettor.
The oddsmakers are more sensitive to bets placed by sharps, as they're called, since they're professionals who beat the book far more often than the casual bettors who represent a majority of the total gambling population.
So how can MSU go from -3 to +3 at Washington while receiving more than two-thirds of the total wagered money for this spread? The answer lies within the question.
The line flipped because the sharps were putting serious money on MSU at -3.5.
Sportsbooks move lines in an effort to better balance bets, because that helps the books to mitigate potential losses on a given wager and, of course, because it gives the books a better shot at making money.
You have to remember that point spreads don't necessarily indicate who Vegas thinks will win a given game; oddsmakers set — and move — the line with the explicit intent of limiting their book's exposure to losses.
Reed's Status
Something else that affects line movement in sports betting is the availability of meaningful players. That could be at work with MSU at Washington.
Michigan State's top receiver Jayden Reed dealt with injury in fall camp. He's played in both of the Spartans' first two games, but he left early last week versus Akron after crashing back-first into a bench on the sideline. TV broadcasters reported that Reed suffered a cut in that incident that required stitches.
MSU coach Mel Tucker offered no specifics on Reed's health or status for Washington earlier this week. But sports radio and social media are rife with rumors that Reed may miss this game.
Sportsbooks are often privy to inside information that fans and even media can't get access to. It's possible that oddsmakers have moved the line in this game toward Washington because they know something about Reed's health the rest of us don't. But there's no way for us to know if that played a part in this game's inverted point spread.
Big Ten Usually Fares Poorly On Pac-12 Turf
Something that I just can't shake when attempting to handicap this game is the Big Ten's history traveling west.
Any MSU fan will tell you anecdotally that the Spartans don't play well on the West Coast. It's true, at least in the regular season: Michigan State has lost its last 13 regular-season road games on the West Coast, with the Spartans' last such win coming in 1957 at Cal.
And MSU doesn't just lose these kinds of games, they get blown out. State has been outscored in those 13 games by a 445-212 margin, meaning MSU loses on average by three touchdowns, 34-12.
But it's not just the Spartans who have faced these kinds of struggles out west — their entire league has the same problem.
Since 2000, Big Ten teams are a combined 12-26 visiting Pac-12 foes in the regular season. That's a .316 winning percentage.
The stats don't get much better when increasing the sample size. Going back to 1921, which is as far back into history as I could find results for, the Big Ten owns a 66-109-6 all-time record on the road versus the Pac-12, good for a .381 winning percentage.
On a somewhat more positive note, though, Big Ten teams are nearly .500 all-time versus Pac-12 opponents in bowls, owning a 50-52 record in those games. And since 2000 the Big Ten actually has a winning mark against the Pac-12 in postseason play, 20-19.
Why is it that the Big Ten is so wretched in Pac-12 country during the regular season but fares so much better in bowl games? Who knows. Michigan State has experienced that same paradox. Despite losing their last 13 regular-season trips to the West Coast, the Spartans are 6-3 in bowl games played there in that same timeframe.
The Pick
The advent of the transfer portal has made things even tougher for college football oddsmakers and handicappers, alike, at least in the early goings of the season. That should be a consideration for MSU at Washington, as both teams have significant contributors who are in their first year with their respective squad.
Payton Thorne has been out of sync for much of the first two games for State. That's a problem, especially given the level of competition he's faced. On the other side, Indiana transfer Michael Penix has picked up right where he left off the last time MSU saw him. His solid performances have come against Kent State and Portland State, of course, but Thorne didn't look nearly as good against similar Group of Five opponents.
When you factor in the rumored possibility that Reed may not play, it has to further concern you about Thorne. Reed is his safety blanket, and Thorne has struggled a lot of the time this season even with Reed on the field.
Add onto that Penix and what looks to be a decent Huskies receiving corps going up against an MSU pass defense that ranked last in the nation last year, which will be without two bonafide leaders in Darius Snow and Xavier Henderson, and it seems like a bad recipe for State. Penix played well against MSU at IU, and his playcaller from those days is the head coach now at Washington.
And then there's the unavoidable history of Michigan State and the Big Ten, in general, playing the Pac-12 on the road.
Altogether, it feels like one of those games that'll come down to the wire, where the indisputable home-field advantage will matter a great deal and the hotter hand at quarterback will make that extra play or two to get his team over the hump.
I'll take the Huskies laying the points: Washington 34, MSU 27.
Michigan State Has Lost 13 Straight Regular Season Road Games On West Coast
It's been a long time since Michigan State won a regular-season game on the West Coast. Like, 12 presidents ago. It was so long ago that the school's name was still Michigan State University of Agriculture and Applied Science. MSU had only been in the Big Ten for several years at that point.
Here are all the regular-season road games MSU has played on the West Coast since last winning there in 1957 at Cal.
What Could Happen In The Aftermath Of The Big Ten Poaching USC and UCLA
USC and UCLA are defecting the Pac-12 for the greener (read: richer) pastures of the Big Ten. This development sends the already-chaotic world of college sports into further chaos. Here's what could happen next.