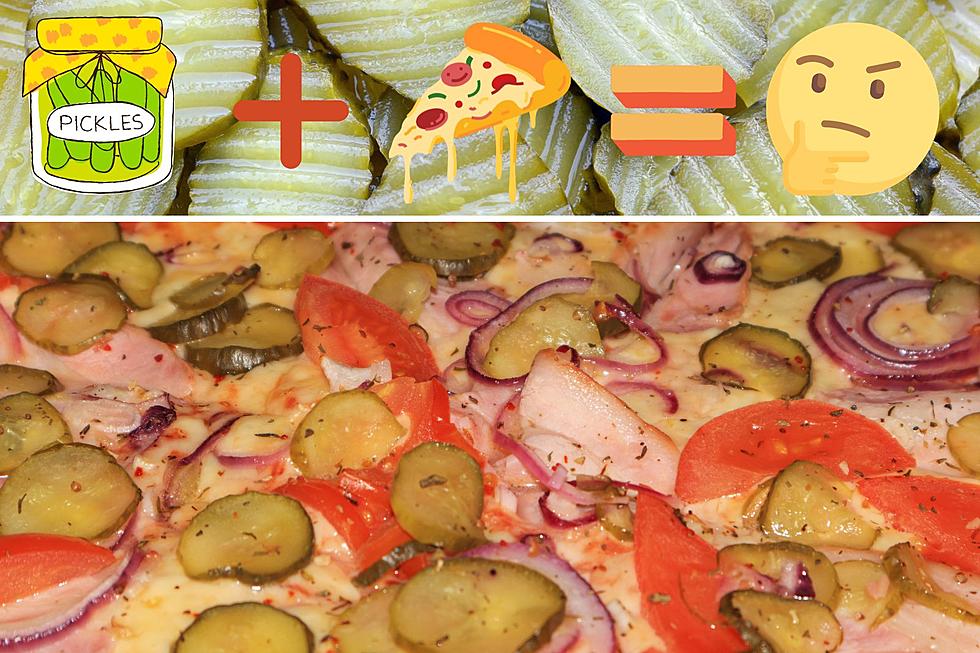 Yum or Yuck? You Have to Taste the Best Pickle Pizzas in Michigan
Credit: Canva
A little late to the game around Michigan, Pizza Hut has decided to jump on the pickle pizza bandwagon.
Who has the best pickle pizza in Lower Michigan?
These are the five best, 'drive-worthy' pickle pizza pies in Central and Lower Michigan, in no particular order.
1. Enzo's Pizza in Grand Blanc, MI insists you only know three of their ingredients ranch, pickle and cheese... don't ask about the rest. They keep it "secret."
2. Vin Trofeo's Pizzeria & Pub Mt. Pleasant, MI (In the old 120 tapas building). Mozzarella and pickles never tasted better together.
3. Sick Pizza Company Oxford, MI. This pickle pizza is outstanding. It has the usual mozzarella plus, Wisconsin brick cheese, house made bacon, fresh garlic, ricotta cheese and chunks of dill pickle.
4. The Paisley Pig Grand Haven and Holland, MI. If you live on the opposite side of the state, you'll wonder if it's worth the long drive when it looks like you're headed to someone's home (pic below). Trust me, you'll be obsessed. They have two pickle pizzas:
'Risk It For The Brisket' - Pickled onions, hot & sweet pickles, peppadews, brisket carolina sauce, bbq drizzle. (You had me at the spicy vibes)
'Pickle My Fancy' - Pesto, caramelized onions, dill pickle, hot sweet pickles, dill sour cream, red pepper flakes.
5. Chubby Charlie's Pizza (Waterford & other Michigan locations). Reviewers love the pickle pizza with a side of ranch for dipping. Plus, you can get it on thin crust.
Michigan's Worst Tourist Trap. Hint: Not Frankenmuth
Bonus Spot: Pompei Pizza Factory Reese, MI. You'll think you're lost and that's when you're there. Northwest of Vassar, East of Saginaw you'll find a flavorful treat. Their version of pickle pizza includes: bacon, pickles, drizzled with southwest ranch on a butter, garlic, dill crust. So. Much. Flavor.
Michigan Restaurants Where You'll Get the Best Steak
From Small Towns to Big Cities in the U.P. and Lower Peninsula these are Michigan's best places to get a flavorful steak.
The 10 Best Brunch Spots in Michigan
Mother's Day Brunch locations all around Michigan
Michigan Lakes With Weird or Creepy Names
Lakes Around Michigan with Names that Sound Strange, Creepy or Like a Horror Movie