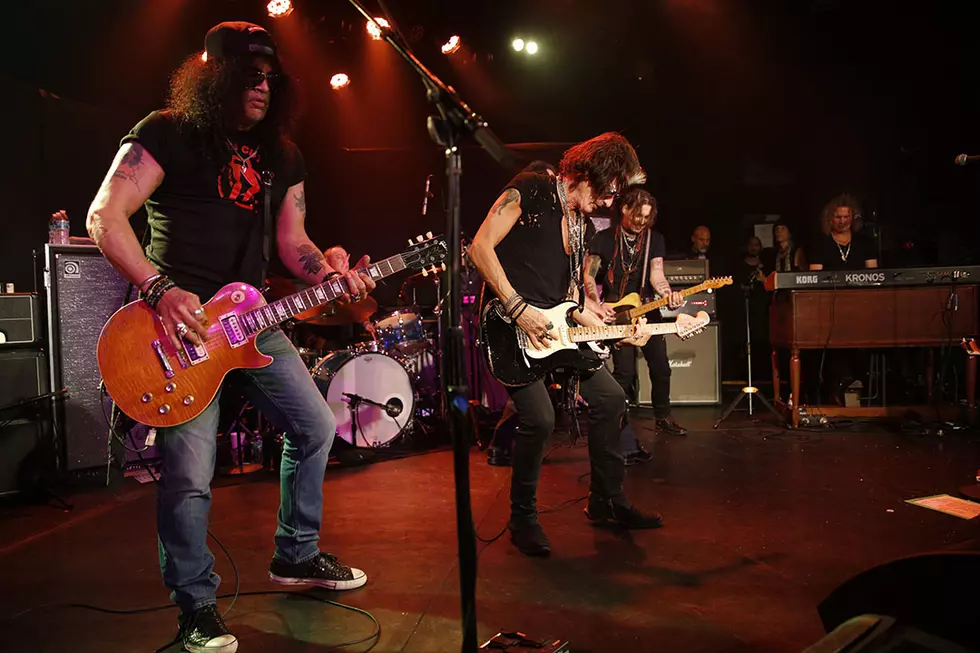 Joe Perry Debuts New Album, 'Sweetzerland Manifesto,' in Concert: Videos, Set List + Photos
Alex Kluft, Getty Images
On Tuesday, Jan. 16, Joe Perry premiered tracks from his upcoming solo album, Sweetzerland Manifesto, with a guest star-filled show at the Roxy Theatre in Los Angeles. You can see pictures from the evening below.
Perry was backed by Dean and Robert DeLeo of Stone Temple Pilots on guitar and bass, respectively, Buck Johnson on keyboards and David Goodstein on drums, with Extreme's Gary Cherone serving as lead vocalist for the Aerosmith songs. Robin Zander, Terry Reid and David Johansen were on hand to perform the songs that they sang on the album. Slash, Chris Robinson and Johnny Depp, who is listed as the record's executive producer, also made contributions to the show.
According to Rolling Stone, after opening with four Aerosmith songs, Perry said, "We're not going to be playing any more of that s--- for a while." They then performed most of Sweetzerland Manifesto as well as "Fortunate One," which was recorded with Robinson on vocals after the album had been mastered. The evening closed with everybody joining in on a cover of the Beatles' "Come Together," with Slash and Depp staying on for "Train Kept A-Rollin'," after which Perry smashed his guitar.
"Everything was screaming; the amps were going," he said afterwards. "I didn't know what else to do. All of a sudden my guitar was in pieces. It was a really a nice guitar, and the guy who made it for me was in the front row. That's why I'm feeling bad about it. It was not anything I planned. It was just that the energy was overwhelming."
Sweetzerland Manifesto, Perry's first non-holiday solo album since 2009, is being released tomorrow.
Joe Perry, The Roxy Theatre, Los Angeles, Jan. 16, 2018 Set List
1. "Let the Music Do the Talking" (w/Gary Cherone)
2. "Toys in the Attic" (w/Gary Cherone)
3. "Pandora's Box" (w/Gary Cherone)
4. "Shakin' My Cage" (w/Gary Cherone)
5. I'll Do Happiness" (w/Terry Reid)
6. "Sick & Tired" (w/Terry Reid)
7. "Won't Let Me Go" (w/Terry Reid)
8. "Fortunate One" (w/Chris Robinson)
9. "Spanish Sushi" (w/Gary Cherone)
10. "Eve of Destruction" (w/Johnny Depp)
11. "I Wanna Roll" (w/David Johansen and Johnny Depp)
12. "I'm Goin' Crazy" (w/David Johansen)
13. "Countryside Blvd." (w/Robin Zander)
14. "Aye, Aye, Aye" (w/Robin Zander)
15. "Quake" (w/Gary Cherone)
16. "Rockin' Train" (w/Gary Cherone)
17. "Come Together" (all guests)
18. "Train Kept A-Rollin'" (w/Slash and Johnny Depp)
Photos From Joe Perry's Concert