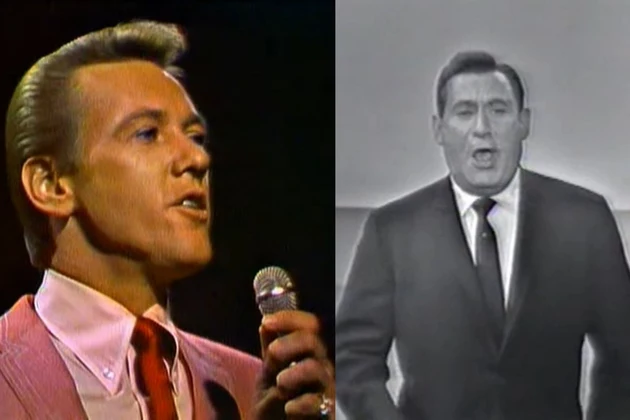 Two of the World's Greatest Singers Died in Kalamazoo
Bobby Hatfield (DiscoBar89 via YouTube) and Richard Tucker (Ed Rosen via YouTube)
Kalamazoo is known for a lot of things; first and foremost would have to be Gibson guitars and Kaopectate. But for a short while, it was for a string of celebrity deaths in Kalamazoo. The most famous of those would be Bobby Hatfield, the blond hair member of the 1960's pop singing duo, The Righteous Brothers. Years earlier, if you're a fan of opera, Metropolitan Opera star tenor Richard Tucker died of a heart attack, in Kalamazoo, in 1975. Some say Tucker is the greatest tenor of all-time.
The Righteous Brothers were known for the "blue-eyed soul." Bill Medley was the one with the deep voice and Bobby Hatfield sang the high parts. And boy, did he sing them. Together, as the Righteous Brothers, they scored numerous hits including two number-ones, "You Lost That Lovin' Feelin'" and "(You're My) Soul and Inspiration". Twenty-years later, Medley teamed with Jennifer Warnes on chart-topper "I've Had the Time of My Life" from "Dirty Dancing", while Hatfield's solo "Unchained Melody" found a whole new audience in the Patrick Swayze-Demi Moore movie "Ghost" in 1990.
So, it was November 5th, 2003, and the Righteous Brothers are schedule to sing at Miller Auditorium.
"Hatfield died at the Radisson Hotel in downtown Kalamazoo, Michigan on November 5, 2003. He was found by Bill Medley and the Righteous Brothers' road manager Dusty Hanvey. A security guard let them into Hatfield's room after he had failed to show up at the concert venue when expected. He apparently died in his sleep, hours before a scheduled Righteous Brothers concert. In January 2004, a toxicology report concluded that cocaine use had precipitated a fatal heart attack. The initial autopsy found that Hatfield had advanced coronary disease. The medical examiner stated that "in this case, there was already a significant amount of blockage in the coronary arteries." -wikipedia
And, here's some video of Richard Tucker. Operatic-style singing may not be currently popular, but you can see what an amazing voice Mr. Tucker had.
(Ed Rosen via YouTube)
Things Change: Downtown Kalamazoo 2007-2022
Taking a trip through time, around downtown Kalamazoo. Thanks to Google Street View, see how the landscape has changed in just 15 years
Rock History: What to See at Hard Rock Casino in Gary
Eddie Van Halen's striped guitar and Michael Jackson's sequined glove are the highlights of the memorabilia on display the the Hard Rock Casino in Gary, Indiana.
Stunning Arctic Camo Global Express XRS Built at Duncan Aviation in Battle Creek
Gilmore Car Museum Winter Wonderland 2021, just outside Kalamazoo, Michigan
The first ever Winter Wonderland at the Gilmore Car Museum, near Kalamazoo, in Hickory Corners, Michigan, is a drive-thru and walk-through nighttime holiday lights experience on the Gilmore Car Museum 90-acre campus. Christmas 2021, Holidays 2021