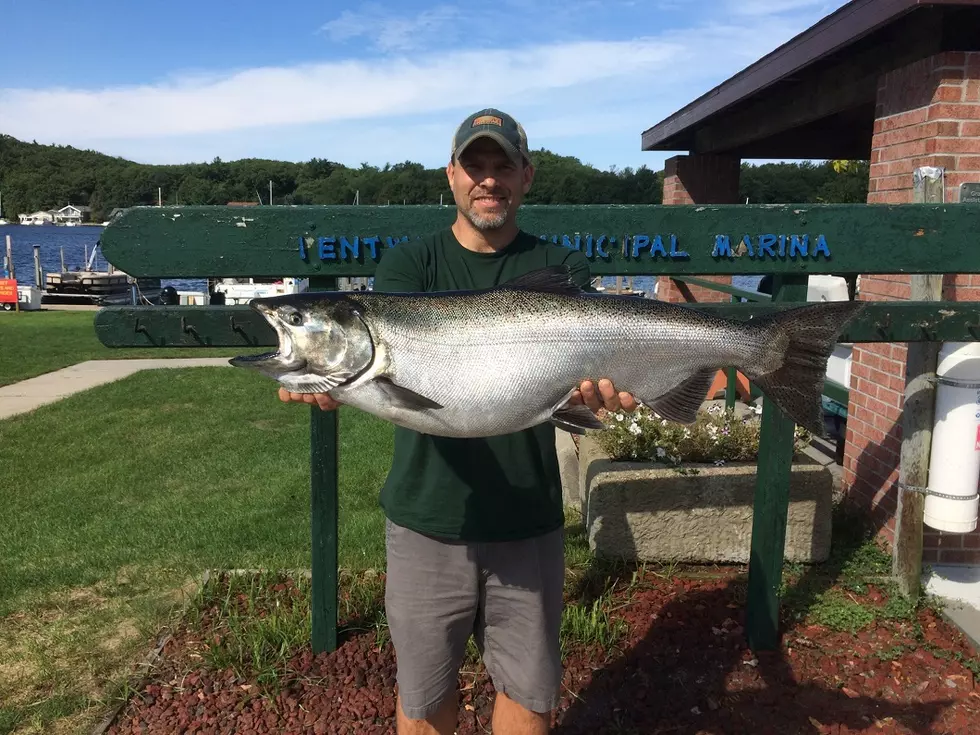 Mason Man Catches BIG Lake MI Salmon
Last weekend (when it still felt like summer), My Honey showed me the giant fish picture his pal Alan Wilkerson of Mason sent him. As told to me, here's how it went down:
Sunday Sept 2nd, 4:45AM, Alan Wilkinson, his brother Randy Wilkinson and their friend Mike Wiel left their place up north, which is about 20 minutes east of Pentwater, and soon after ran into a thunderstorm so intense that is was "hard to see the lines on the road with the heavy rain and high winds". They later learned that about 15 minutes after they left their cottage, a huge tree fell across the dirt road, which would have stopped them from passing through.
With the wicked storm upon them, it seemed unlikely that they would get out onto Lake Michigan, but by the time they met up with John Cunningham, father-in-law of Randy Wilkerson, the rain had stopped and the radar looked clear, so they headed out on Cunningham's 28' boat. 
Waters were rough with 3-4' waves, but Dramamine kept at least Alan from 'chumming the waters'. 
They left the bay and headed south past Silver Lake Dunes, then started trolling back towards Pentwater. Within an hour, they had their first King Salmon on the boat, two nice Coho Salmon soon after, then after a ten minute battle and three attempts to net the beast (it nearly popped out of the net it was so big!), Alan Wilkerson reeled in the 36" long, 22 pound beast. 
The spoils of the day were enjoyed with roasted garlic butter over an open cherry-wood campfire.
Our thanks to Alan Wilkerson for his summer story of 'Pure Michigan'.