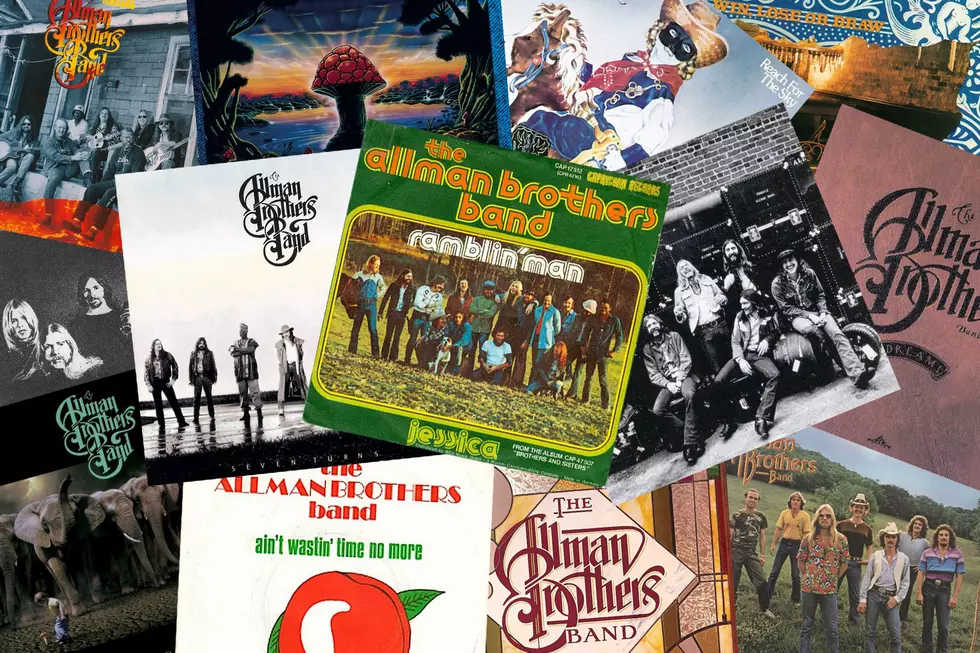 The Best Song From Every Allman Brothers Band Album
UCR
It's tempting to compare everything in the Allman Brothers Band's catalog to their first, most-celebrated lineup. But that's not fair to the two distinct eras – the original band that carried on without the late Duane Allman, and the reunion-era groups featuring Warren Haynes and Derek Trucks – which followed.
As our list of the Best Song From Every Allman Brothers Band Album shows, there were plenty of success stories after tragedy befell the group.
Their career began slowly, before At Fillmore East finally showed what the band could do. A wonder of power, precision and improvisational genius, the album changed the Allman Brothers Band's profile forever. Then Duane Allman (and, a little later, bassist Berry Oakley) died in a motorcycle accident, and few thought they could carry on, much less flourish.
In fact, the Allman Brothers Band scored their first – and only – ever No. 1 hit in the years following that tragedy. But 1973's Brothers and Sisters was also their last platinum-selling project. The group broke up once, got back together and then began a lengthy hiatus in the early '80s.
Haynes played a key role in sparking their third and final era. He co-wrote the title track to Gregg Allman's July 1988 solo album Just Before the Bullets Fly and also appeared on Dickey Betts' Pattern Disruptive, which arrived that October. The following year, he was there as the Allman Brothers Band finally returned to the road.
They'd release four more studio albums before calling it quits, including 1994's gold-selling Where It All Begins and 2003's Hittin' the Note, a Top 40 swansong. Derek Trucks, the nephew of Allman Brothers Band co-founder Butch Trucks, helped round out the late-period lineups before the group called it quits in 2014.
Our task was to survey 12 studio albums – and one career-defining live record – in search of the top moments from that remarkably varied and successful run, as you'll see in the below list of the Best Song From every Allman Brothers Band Album.
'The Allman Brothers Band' (1969): "Dreams"
The group's most overtly jazz-influenced song was part of a long string of early compositions Gregg Allman offered his fledgling bandmates – with little success. In fact, he was a dozen songs in before the Allman Brothers Band decided "Dreams" would work. Unusually, Allman composed the song on the Hammond organ, instead of the preferred guitar or piano. Drummer Jai Johanny "Jaimoe" Johanson's library of old jazz records helped shape their approach, as they turned Allman's blues haiku into a waltz-time meditation that traced the same musical lines as "All Blues" from Miles Davis' groundbreaking Kind of Blue. "When we were first putting a group together," Duane Allman once said, "we were listening to Jefferson Airplane and the [Grateful] Dead's records. We were all kicking around down South, buying records out of the Kmart and taking them home and digging them. And [Jaimoe] comes along and says, 'Well that's cool  —  good, but check out what I got over here, this collection.' They just turned us all around. We heard with them cats were doing. Knocked us out." "Dreams" is also the rare classic-era Allmans song featuring just one guitarist, as Duane offered a pair of brilliant solos over the band's two-chord vamp.
'Idlewild South' (1970): "In Memory of Elizabeth Reed"
The first in a string of strikingly inventive instrumentals from Dickey Betts, "In Memory of Elizabeth Reed" quickly became one the group's most recognizable songs. Betts was inspired by a doomed romance with a woman whom he was secretly meeting in a local graveyard. The guitarist liked to go there to compose, and that's where he saw a headstone bearing the title of this moving, minor-key song. Betts had actually been playing in the same style for some time, working in a symbiotic fashion with the Allmans' late original bassist. "Berry Oakley and I inspired each other's improvisational creativity while we were in Second Coming, the band that presaged the Allman Brothers," Betts later told Guitar World. "One of our favorite things to do was to jam in minor keys, experimenting freely with the sounds of different minor modes. We allowed our ears to guide us, and this type of jamming served to inspire the writing of songs like 'In Memory of Elizabeth Reed.'" The track is driven by these brilliantly harmonized guitar lines, a sound that came to define the Allman Brothers Band. Betts' interest in that approach didn't come from listening to jazz, but instead to the Western swing of Bob Wills. By the way, he wrote "Blue Sky" in the same cemetery.
'At Fillmore East' (1971): "Whipping Post"
"Whipping Post," like "In Memory of Elizabeth Reed," had been earlier featured on Allman Brothers Band studio recordings – but both found new meaning in this live setting. In fact, the 23-minute take from At Fillmore East is not only the definitive version, it's the moment when Gregg Allman's composing genius is confirmed. Still, this is truly a band triumph. Oakley completely rearranged the song – which started out as another slow blues – into an unusual 11/8 meter that provides plenty of musical space for his bandmates to fill. Dickey Betts and Duane then soar through another ribbon of harmonized, totally off-the-cuff guitar lines. (At one point late in the proceedings, Betts impishly quotes the children's song "Frere Jacques.") "We have rough arrangements, layouts of the songs, and then the solos are entirely up to each member of the band," Duane once explained. "The naturalness of a spur-of-the-moment type of thing is what I consider the most valuable asset of our band." And perhaps nowhere more so than on "Whipping Post," which – quite fittingly – took up the entire closing side of the original Fillmore East vinyl release.
'Eat a Peach' (1972): "Ain't Wastin' Time No More"
Inspired by the tragic death of his brother, Gregg Allman's album-opening "Ain't Wastin' Time No More" offered a sturdy paean to perseverance. Betts – who Duane once praised by saying, "I'm the famous guitar player, but Dickey is the good one" – seemed to be of a similar mindset as he stepped in on Allman's preferred slide. The idea on Eat a Peach was to mix newly recorded songs like this one with some of Duane's final recordings, making it both tribute and last testament to his genius. And for awhile, it sustained his heartbroken bandmates. "The music brought life back to us all," Gregg said in his 2012 autobiography My Cross to Bear, "and it was simultaneously realized by every one of us. We found strength, vitality, newness, reason and belonging as we worked on finishing Eat a Peach." Still, the prospect of touring nearly broke the band. Ultimately, they decided to go out as a five-piece. No one could replace Duane. Gregg and Oakley introduced the songs, which had also been his role. "We were playing for him," drummer Butch Trucks said in One Way Out: The Inside History of the Allman Brothers Band, "and that was the way to be closest to him." Oakley, who never got over the loss, died in a similar motorcycle crash a year later.
'Brothers and Sisters' (1973): "Ramblin' Man"
Dickey Betts had no intention of giving this country-rock gem to the Allman Brothers Band. But something about its searching narrative spoke to them in that moment. "I was going to send 'Ramblin' Man' to Johnny Cash," Betts told Guitar World. "I thought it was a great song for him. But everybody in our band liked that song." Smart move: "Ramblin' Man" became the only Allman Brothers Band single to reach the Billboard Top 10, streaking all the way to No. 2. The song also heralded a shift, both in leadership and musical style, toward Betts. The Allman Brothers Band somehow found a way to carry on, but not without help. Les Dudek guests on "Ramblin' Man," allowing the group to replicate their signature harmony leads. "We got into the studio and got into that big long jam at the end with all those guitar parts and everything, and we forgot about how country the song was," Butch Trucks later told the Morning Call. "And then wouldn't you know it — it becomes our only hit single." That they would never be the same was reflected in the decision to expand their official lineup with pianist Chuck Leavell as a second soloist, rather than another guitarist. "Ramblin' Man" was also the last song recorded with Oakley.
'Win, Lose or Draw' (1975): "Win, Lose or Draw"
Despite that stirring comeback, Betts and Allman drifted apart, and by 1976 the band had split. But not before issuing a largely disinterested album featuring a title track that sounds like it was plucked from sessions for Allman's 1973's solo debut Laid Back. The theme of this touching breakup song certainly fit the times, though. "We were frustrated. The music had grown stale. We were confused," Betts told the Los Angeles Times in 1989. "Drugs were a problem, and some of us had to overcome that. It wasn't just Gregg, but his problem was more obvious and newsworthy." Instead of recording live, as the Allman Brothers Band had always done, they pieced things together in the studio. Key players often weren't even there. It got to the point where Jaimoe, Leavell and new bassist Lamar Williams started joking that they should form their own group called We Three. Still damaged by loss, Allman described these sessions in My Cross to Bear as "the worst experience I ever had in a studio. ... We'd taken time off, but that had only exaggerated the problems between our personalities. With each day, there was more and more space between us. The brotherhood was fraying, and there wasn't a damn thing any of us could do to stop it."
'Enlightened Rogues' (1979)" "Just Ain't Easy"
They returned with some perspective, even if an essential spark seemed to have been lost. Allman's "Just Ain't Easy" deals with his own hard-partying ways, and he pulls no punches. "It's about defeat and resignation, being on the bottom," he admitted in My Cross to Bear. Allman had spent the time away in Hollywood, recording an ill-conceived duet LP with then-wife Cher, before finally finding his way back to his old group. There were other lessons learned: "We worked best together," Allman told the Los Angeles Times. "What we did when we worked on other things wasn't as good was what the Allman Brothers did." They hired Tom Dowd in place of longtime producer Johnny Sandlin in an effort to mix things up. Dan Toler took over on second guitar, and David Goldflies was on bass. The fact is, however, the Allmans were no closer to regaining their early momentum – creatively or commercially. "We just could not measure up to the original band," Betts said in a separate talk with Guitar World. "Even when we had some great players, there was a pull, a tension. The unity was lacking."
'Reach for the Sky' (1980): "So Long"
Synth-laden experiments like this one attempted to bring the Allman Brothers Band into a new age, even if some members came kicking and screaming. "When the music trend started turning away from blues-oriented rock toward synthesizer-based dance-music arrangements, the record company started to dictate what type of record we could make," Betts told Guitar World, "and we got caught up in that whole thing." In some cases, notably on the lithe, dream-like "So Long," they were able to achieve a deft balance between these two disparate worlds. Far more dispiriting were moments like "From the Madness of the West," the only song with a twin-guitar attack between Betts and Toler. They were trying too hard to sound like the Allman Brothers Band of old, and the spark just wasn't there.
'Brothers of the Road' (1981): "Things You Used to Do"
It got worse. Arista wanted the Allmans to be sleek hit-makers, even discouraging them from mentioning Southern rock or wearing cowboy hats, according to Betts. He said they attempted to push back but were thwarted. "We recorded it one way and the producers mixed it another way," Betts later told John Swenson. "It turned into this awful pop album." Allman described the entire period as "embarrassing." Still, they somehow managed to sneak in "Things You Used to Do," a classic put-down song and the album's single moment of almost-brilliance. ("You've got a million dollar smile," Allman growls, "and a half-a-dollar soul.") This time, there would be a longer hiatus. "I think Enlightened Rogues is a good album," Betts added, "but the way I feel is, from that point on it gradually was less fire and less inspiration. ... By the time we got around to Brothers of the Road, you could tell that whatever it was we had was over."
'Seven Turns' (1990): "Seven Turns"
See if this sounds familiar: The Allman Brothers Band are at a low ebb, with many wondering if they'll ever return. Then a roots-rocking Dickey Betts song turns everything around. It happened with "Ramblin' Man" and then, 17 years later, with the title track from Seven Turns. Their unlikely reunion grew out of shared moments on the road between the Allman and Betts solo group – and so did this song, which featured former Betts band member Warren Haynes on slide. Reportedly sparked by Native American philosophy, "Seven Turns" took a long view on the big decisions that ultimately define us – and the Allmans had certainly had more than their share along the way. "To me, there wasn't a lot of pressure on Seven Turns," Allman told Guitar World. "It was more of an adventure: Let's see what a few years away from each other did for us. And it was good. We needed a break from each other and came out swinging." Haynes proved to be a secret weapon from the start, becoming Betts' first genuine foil since Duane Allman's death.
'Shades of Two Worlds' (1991): "Nobody Knows"
The centerpiece of Shade of Two Worlds, their best late-period record, had a difficult birth. Allman felt it was too similar in structure to the genuinely iconic "Whipping Post." But "Nobody Knows," which features one of Betts' most lyrical narratives, just wouldn't be denied. (Besides, "Hot 'Lanta" is pretty similar too, right?) "These are nice, abstract, poetic lyrics," Betts told Guitar World. "I wrote that about as fast as I could write the words down, at 4:30 in the morning after rehearsal. [Producer] Tom Dowd had said, 'We could use a tune as heavy as "Whipping Post" for this record,' and I thought, Man, that's a tall order! I sat down and those words just started flying out. In 30 minutes, I'd written the whole thing, like I was writing a letter to someone." Allman handles the mic with dark authority, while Betts and Haynes end up in a thrilling tangle. As with so many Allman Brothers Band songs, "Nobody Knows" found its fullest flowering later on a live record, 1992's An Evening With the Allman Brothers Band: First Set.
'Where It All Begins' (1994): "Soulshine"
Warren Haynes also proved to be an invaluable composing presence over the final years of the Allman Brothers Band. They didn't record much, but when they did, Haynes played a central role. The soaring and inspirational "Soulshine," Haynes' best-known contribution, actually predates his tenure in the group. He wrote the song in the late '80s; "Soulshine" was first recorded by the bluesman Larry McCray for 1993's Delta Hurricane. Haynes wasn't initially sure how to approach this track, which was inspired by his father. "He is a huge part of my life, a huge inspiration and a great role model. It's rare to have the opportunity to do that," Haynes said in Chicken Soup for the Soul: The Story Behind the Song. "I thought it was too simple because it came too easily, but when I tried to change it or complicate it, it seemed too contrived. … Some songs are better off left alone. Instead of a blues approach about how I felt, I wrote for a universal appeal. However, the more I distanced myself from it, the more I realized how personal it was." All that was left to do was hand it over to Gregg Allman, who – despite a number of other Haynes-led versions with his offshoot band Gov't Mule – gave "Soulshine" its most complete reading.
'Hittin' the Note' (2003): "Desdemona"
Haynes left for a time to focus on Gov't Mule, and his return led to another – and final – stroke of inspiration with Gregg Allman. That began with this co-written triumph. "I was pretty much in a slump, but this thing with Warren woke my writing back up," Allman told the Pittsburgh Tribune-Review. Good thing, since Hittin' the Note became the first-ever Allmans album without Dickey Betts, following a final falling out with Allman. Haynes and Allman found new success sitting face to face, composing at Allman's home in Savannah, Ga. "I'm not back to where I was. I don't think I'll ever be," Allman added. "But Warren and I have the exact same taste in music. When I'd get hung up on something, he'd come in and finish it off." Songs were also demoed in a tight circle, then recorded live with the exception of a few solos. It took just 10 days in December 2001, with a few overdubs the following April, to finish Hittin' the Note. The soulful "Desdemona" remained the high-water mark, as they moved with age-old ease into stirring jazz-influenced improvisation then back again. Unsurprisingly, the Allman Brothers Band once again discovered the heart of this song onstage, as heard on 2004's One Way Out.