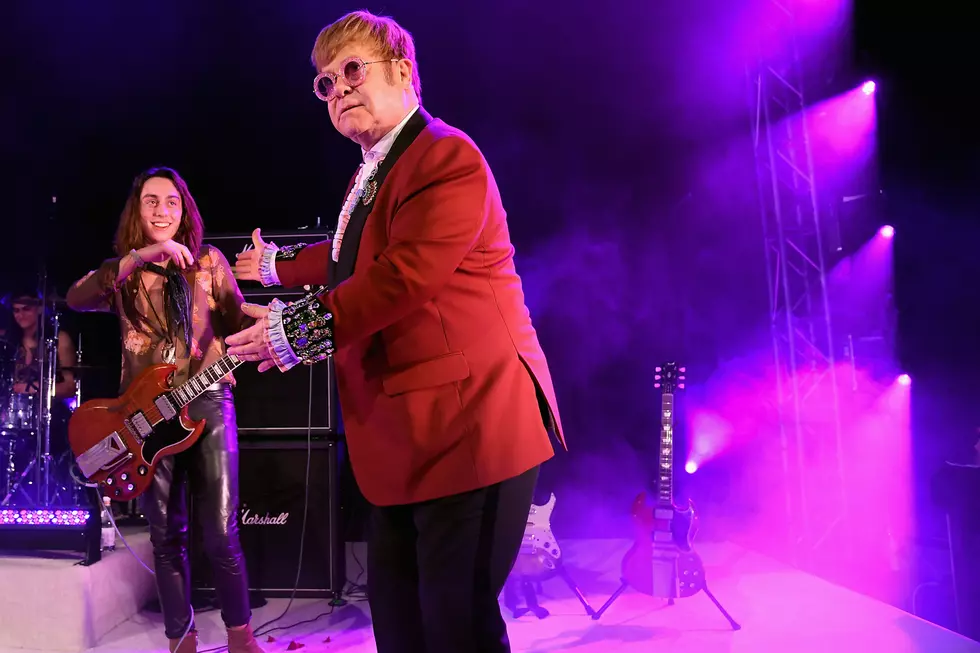 Watch Elton John Perform With Greta Van Fleet at Oscars Party
Venturelli, Getty Images
The party was a benefit for the Elton John AIDS Foundation and held at the City of West Hollywood Park in West Hollywood, Calif. You can see photos and fan-shot video from the event below.
"They're amazing, and they blew me away," John said in his introduction. "So you're going to see them here and they're going to be one of the biggest new bands of the year. They have an amazing future ahead of them, and I'm so thrilled -- I'm so thankful to have them come onstage and play for you."
Few details have surfaced on the performance, but judging by the clips posted on social media, it appears that Greta Van Fleet played their own "Edge of Darkness," which was released on last year's From the Fires EP and an acoustic song. John also sat in with the band on "Saturday Night's Alright for Fighting," which hasn't been a particularly lucky song for him recently.
John personally called the up-and-coming band, which has been compared to Led Zeppelin, to invite them to his party, telling them that their two EPs were "the best rock 'n' roll I've heard in 20 fucking years!" Comprised of three brothers -- Josh, Jake and Sam Kiszka -- with Danny Wagner on drums, Greta Van Fleet were introduced to John's music by their mother.
"I remember seeing The Lion King when I was really young and being affected by 'Can You Feel the Love Tonight,' Jake, the guitarist, said. "I remember listening to Elton John in the car. ... The first call I made [afterward] was to my mother. It was a great moment. We're bringing our mothers!"
Greta Van Fleet, who have also captured the ear of Robert Plant, are currently working on their first full-length studio album in hopes of releasing it this spring or summer. After playing the Coachella music festival in April, they'll begin a month-long U.S. tour on April 29 at the Welcome to Rockville Festival in Jacksonville, Fla.