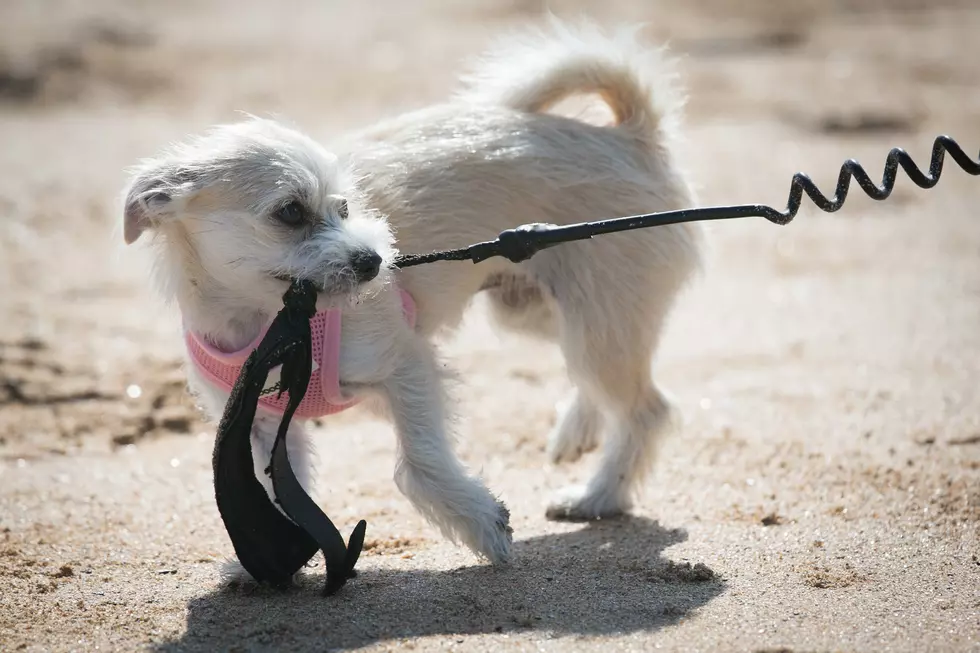 Lost Dog Running Scared In Webberville. Can You Help?
Getty Images
(PLEASE NOTE: THE DOG PICTURED IS NOT THE DOG OF SUBJECT, BUT SIMILAR IN SIZE, COLOR, AND HAIR LENGTH)
So, last year, I joined Joey Pants as a resident of Webberville. (That's a whole lot of ego in a small village!) The small town atmosphere is right up my alley. And, the best thing is the sense of comradery and how neighbors band together to help each other out in the community. I now have a sense that I may help out one of my neighbors. But, it's one of those things I can't do alone. Can you help?
Sunday evening, I was pulling onto Grand River Avenue near the Dollar General store on the village's west end. I noticed some sort of a critter in the road. As I got closer, I realized it was a very small breed white dog with a red collar. The poor pup is scared out of its mind and wandering this busy roadway in confused manner.
I tried, to no avail, to see if I could approach this fur baby and help it find its way home. I know that if I was missing one of my four-legged companions, I would want anybody who might lay eyes on them to help get them home. That's why this has become a mission in my household.
The poor dog is scared to all extents of human approach from what I can gather. In fact, I followed the little dog one mile along Grand River Avenue as it ran as far as M-52 before reversing its path and heading back towards town. I lost sight of the dog in the Sunday evening darkness around Webberville Road and had no choice but to abandon my search at that time.
Monday afternoon, my Treeing Tennessee Brindle, Benji, and his Beagle brother, Spencer Lee, were outside when Benji's loud mouth started sounding off with a little more urgency or excitement than normal. The little white dog with its red collar had approached them to the point that Spencer was welcoming the lost pup to his back porch.
Unfortunately, when my girlfriend, Laurie, opened the door to see if she could get the dog some food and water and see if he had tags or a microchip, the little thing shot down the driveway and ran down Grand River Avenue again. Some utility workers were out front and told her that the dog had once again ran west, and then retreated back to the east towards town.
At this point, both Benji and Spencer were obsessed with getting the little dog back to their house for safety, whining non-stop and running from window to window, door to door. What's funny, is Laurie asked the boys if they were "trying to find the baby?" Benji immediately went to our sliding glass door with a high pitched yelp. Surely enough, he had seen the little dog out back, running the railroad tracks that bound our backyard.
Once again, she tried to coax the dog from a distance with food and treats. And, of course, to no avail. Being absolute animal lovers, we both know that this poor thing is about to be exposed to some nasty elements outdoors over the coming days. From its appearance, it badly needs some shelter and attention, and most likely nourishment.
She reached out to Ingham County Animal Control Monday afternoon. But, there are no available officers after 3:30 PM. She also contacted the Village of Webberville offices and the Webberville Animal Clinic to see if they had heard of any of our neighbors searching for their fur baby. Neither have heard of any reports, and the numerous lost pet social media sites have not had any reports on this dog...at least to what we could see.
Can you help? Are you a Webberville resident missing a small white dog with a red collar? I wish we could get close enough to get a picture, but, we can't. It appears to be a poodle mix, terrier, or similar breed with longer hair. It's about seven to ten pounds and very small. If you're in the area, please keep your eyes open. And, if you know somebody looking for this dog, please let them know that there is a fairly small location of sighting.
All anybody wants is a happy ending to this story and for this poor, scared baby.